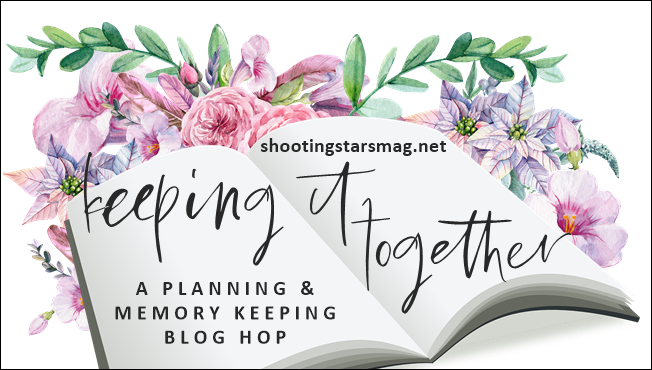 Happy Keep It Together day with the lovely Rebecca Jo from Knit By God's Hand
Because I'm slacking on taking photos, I don't have any of my current planner. I have been using it though and trying to decorate more! Even though I have tons of stickers, I really would like to get some new ones – I feel like I've been looking at the same sticker books for awhile now. At any rate, I do have a planning post for you – but it's all about blog features!
Keep It Together: New Blog Features
What do I mean by blog feature? Essentially, these are blog posts that would repeat whenever I had something new to share  (they would all fall under the same theme or idea). They wouldn't necessarily be once a month – they could even be a couple times a month! However, I've had these blog "feature ideas" for awhile now and I want to get started posting them.
For that though, I need new images (like the Keep it Together photo at the top of this page). I'm not the best at creating images – this one was done by the lovely Kelly from DivaBookNerd. At any rate, I figured I'd see what I can do and you all can let me know your thoughts about the features, the images, which one you like best for each feature, etc.
Blog Feature #1: I've Heard It Both Ways
If you're a fan of the tv show Psych then you know the often-used phrase "I've heard it both ways." I think this is the perfect title for one of my new blog features – which is all about music!
Have you ever noticed songs that sound similar, but they are delivering opposite messages? As a silly example, let's say one song is all about the love of picnics and another song is all about how picnics are awful and bears will steal your basket. There are a collection of songs that fit this idea perfectly (to me at least) and I've been wanting to share them, so hence a new blog feature!
Now let's see about those images-
Here's the first image idea! I also included a little tagline: Two Songs. Opposite Messages.
how do you like the image?
what do you think of the tagline? Should I change it, not have one at all?
I'm open to all your ideas, so please let me know!
Here's another quick idea for an image-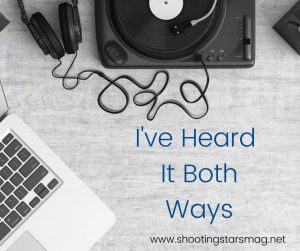 what do you think about this one?
Should I add the tagline or not? Change anything in this image?
I can edit both of these images so if there are things you think should be different, let me know. If you don't really care for either, I can always create new images to try out too!
Blog Feature #2: Big/Little Book Club
First off, I'm not super attached to the title for this feature so if you have any ideas, let me know! I'd really appreciate them.
Now, this blog feature is basically what it says – an adult and a child have a book club together. But the twist is that they aren't reading the same books! Instead, they are reading similar books, whether that's in theme or an adult book and a kid's book by the same author, etc. This can be an adult/kid, adult/teen, teen/child. It doesn't matter.
I know part of a book club is discussing the book – and I think you can still do that here. The younger reader can probably share more, but the big in the group can still talk a bit about what they read (as long as it's appropriate). The takeaway here is to make time for reading and to enjoy discussing books!
what do you think about this feature? Again, any different name ideas?
would you do this type of thing with someone in your life?
And now – some image ideas!
what do you think? Do you like this tagline?
And another image –
Alright, I think that's it for today! Please do leave a comment letting me know what you think of the new features, if I should use the taglines, which image you like best, and if I should edit any of the images to make them better!
Thanks for your help!
If you have any of your own planning, scrapbooking, memory keeping type of posts – please link up!
You are invited to the Inlinkz link party!