Today I'm sharing book reviews for two new YA books; one a sequel and another told in verse. I do recommend both!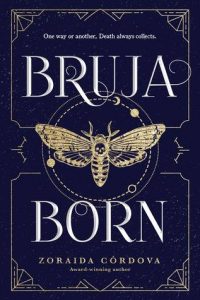 Bruja Born by Zoraida Córdova
Review by Lauren
Source: copy from Netgalley; all opinions are my own
Official Summary (add to Goodreads): Three sisters. One spell. Countless dead.

Lula Mortiz feels like an outsider. Her sister's newfound Encantrix powers have wounded her in ways that Lula's bruja healing powers can't fix, and she longs for the comfort her family once brought her. Thank the Deos for Maks, her sweet, steady boyfriend who sees the beauty within her and brings light to her life.

Then a bus crash turns Lula's world upside down. Her classmates are all dead, including Maks. But Lula was born to heal, to fix. She can bring Maks back, even if it means seeking help from her sisters and defying Death herself. But magic that defies the laws of the deos is dangerous. Unpredictable. And when the dust settles, Maks isn't the only one who's been brought back…
Review of Bruja Born
Bruja Born is the second book in the Brooklyn Brujas series (Labyrinth Lost was first – my review can be found here). I do recommend reading the books in order as things that occured in the first book are repeatedly mentioned throughout Bruja Born. Plus, you'll get to know a bit more about Lula and her family. Now, if you have read Labyrinth Lost, then I should note that Bruja Born is told in the point of view of Lula, the eldest sister, instead of Alex. While I really liked Lula and appreciated what she had to go through in the book, I'm not sure I liked her more than Alex.
This book was a fascinating look into how this family's powers work in the real world, and it also clearly shows that they can't just do anything they want. When Lula's boyfriend Maks dies in a horrible bus crash, she is desperate to bring him back. Obviously, this has consequences that really affect a lot of people. I could understand Lula's wish for Maks to be back in her life, but what she does puts a lot of people at risk and I'm not entirely sure she understood that in the end. It almost felt like she got off a bit too easy maybe? At any rate, the book was really well written and I loved learning more about this family. I'm very curious about the youngest sister, Rose, and I hope the next book is about her! Bruja Born wraps up Lula's story, but it does end with a little "push" if you will to entice you to read the third book!
Two YA Book Reviews: Bruja Born and Moonrise #ontheblog #bookbloggers
Click To Tweet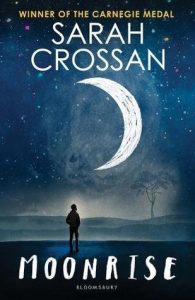 Moonrise by Sarah Crossan
Review by Lauren
Source: copy from publisher; all opinions are my own
Official Summary (add to Goodreads): 'They think I hurt someone.
But I didn't. You hear?
Coz people are gonna be telling you
all kinds of lies.
I need you to know the truth.'

From one-time winner and two-time Carnegie Medal shortlisted author Sarah Crossan, this poignant, stirring, huge-hearted novel asks big questions. What value do you place on life? What can you forgive? And just how do you say goodbye?
Review of Moonrise
This book is told in verse, but even if you aren't sure about verse novels, I would still recommend this book. I felt like it read so well and I often forgot I was even reading a verse novel. Plus, it focuses on such an interesting, important topic. Moonrise would make a great book for discussion, so people in book clubs might want to take note!
Moonrise is about Joe, whose brother used to be his hero, best friend, parent, all rolled into one. With a mom who wasn't around much, and didn't really seem to care, Ed was the oldest person in the house and he made sure to look after Joe. That is until he's arrested one day for the murder of a police officer in Texas. Being a capital punishment state, Ed has now been in jail on death row for years – and his execution date is fast approaching, so Joe heads down to Texas to be with Ed.
Whether you believe in the death penalty or not, I think you'd find something poignant within Moonrise's pages. To Joe, Ed is his family, and while he's fairly sure Ed is innocent, he does have his doubts. Despite this, he knows that he doesn't want Ed to die, and he hates the fact that he hasn't visited him in all those years he was in jail. Not that this is Joe's fault. He was underage and when his mom ran off, his aunt was in charge and she didn't want to hear or think about Ed anymore.
Written in verse, this book is a fairly quick-paced read. However, it also makes you stop and think. If Ed was your brother, could you forgive him if he was guilty? Would you be okay with him getting the death penalty? These are just a couple of the questions Moonrise asks you to think about. Definitely an emotional, but impactful, read!