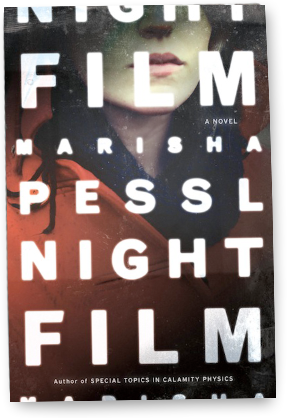 Night Film by Marisha Pessl


Review by Lauren


source: personal copy; all opinions are my own


Official Summary: On a damp October night, beautiful young Ashley Cordova is found dead in an abandoned warehouse in lower Manhattan. Though her death is ruled a suicide, veteran investigative journalist Scott McGrath suspects otherwise. As he probes the strange circumstances surrounding Ashley's life and death, McGrath comes face-to-face with the legacy of her father: the legendary, reclusive cult-horror-film director Stanislas Cordova—a man who hasn't been seen in public for more than thirty years.

For McGrath, another death connected to this seemingly cursed family dynasty seems more than just a coincidence. Though much has been written about Cordova's dark and unsettling films, very little is known about the man himself.

Driven by revenge, curiosity, and a need for the truth, McGrath, with the aid of two strangers, is drawn deeper and deeper into Cordova's eerie, hypnotic world.

The last time he got close to exposing the director, McGrath lost his marriage and his career. This time he might lose even more.


Review: I've heard really good things about this one and I kept seeing it when I worked in a public library. Finally, I found a cheap copy to buy and I made the time this summer to read it. First, I have to say that I thought it would all end a bit different. Basically, I really liked this book until the end. It's not bad, per se, but there is a place I thought the book was going to go and it didn't. Sigh. Who knows though? It might really work for you!
This is a difficult novel to explain, so I'd say go with the summary and then dive in! It follows Scott McGrath, a reporter who has gone after filmmaker Stanislas Cordova in the past and lost his career. He's now divorced and trying to take care of his young daughter when he can. After a few strange evenings though, Scott is back on the case though. Cordova's 25 year old daughter has committed suicide and Scott wants to know why. Was their merit to his earlier investigation? Does Cordova ham children, and did he hurt his own daughter?
Now, to imagine Cordova, I always thought of him as a recluse Hitchcock in a way. Someone that makes darker films, that shines the light on the darker side of humanity. Except Cordova eventually goes into hiding and releases these films in underground locations. People say they are horrifying to view and that the people that act in them often disappear afterwards. What's the truth? Is it all just a way of making people want to watch these films?
Along with Scott, he also investigates with two other young people, who have different reasons for wanting to know why Cordova's daughter, Ashley, killed herself. These are things you learn as the book goes on.
What I absolutely loved about this book is that it includes newspaper articles, photos, message boards, etc. It's a uniquely formatted book that really worked.
I read this book for the Unique Formatting Book Challenge I am currently hosting. Remember, if you have read/reviewed a Unique Format book this year, link up before Monday, August 1 and win $ to The Book Depository!