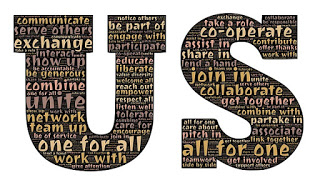 One thing that I keep seeing is people stating how they grew up being told to fight for what they wanted or that they had to work hard for everything. Nobody had to give them a "hand out" etc. and I hate seeing that because there is probably someone reading it who feels embarrassed or upset because that isn't their life.
There is nothing wrong with needing help – from other people or the government. Do people abuse that system? Yes. Are they the majority? I don't think so. R

egardless, these things help people who really need it and that's what I care about. But this isn't an inherently political post. This post about understanding that not everyone is like you.
Also, just because you worked hard or overcame obstacles to get to where you are, doesn't mean everyone can do that. If you did, I commend you. But your life is not the same as theirs- even if it seems awfully similar. Sure, some people are given opportunities left and right and still don't make anything of themselves. But that's not everyone. Not everyone is able to just get up and make a better life for themselves.
People are looked over because of gender, race, religion, skin color, sexuality. It might not be your experience, but it happens. Denying that or making light of it just exacerbates the problem.
This post is probably for the people who already think like I do, and that's fine. But then again? Maybe it will make someone else think too. Again, this isn't a political post. This is about understanding other people. Understanding that not everyone can achieve what you have. Not everyone can get past the life they are in, even if they try hard or have opportunities given to them. Not everyone is you. That's the whole point.
*I originally posted this on my Facebook page, but I thought it was worthwhile to share here too, especially as today is Holocaust Remembrance Day*
-Lauren