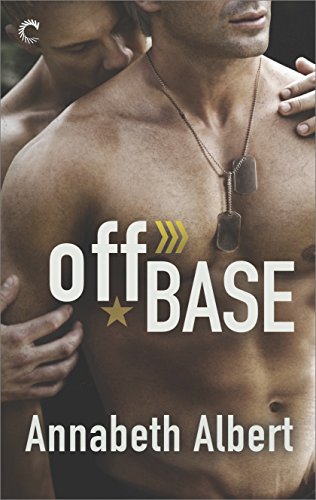 Off Base by Annabeth Albert


Review by Lauren


source: copy from Netgalley; all opinions are my own


Official Summary: After trading the barracks for a fixer-upper rental, navy SEAL Zack Nelson wants peace, not a roommate—especially not Pike, who sees things about Zack he most wants to hide. Pike's flirting puts virgin Zack on edge. And the questions Pike's arrival would spark from Zack's teammates about his own sexuality? Nope. Not going there. But Zack can't refuse.

Pike Reynolds knows there won't be a warm welcome in his new home. What can he say? He's an acquired taste. But he needs this chance to get his life together. Also, teasing the uptight SEAL will be hella fun. Still, Pike has to tread carefully; he's had his fill of tourists in the past, and he can't risk his heart on another, not even one as hot, as built—and, okay, yeah, as adorable—as Zack.

Living with Pike crumbles Zack's restraint and fuels his curiosity. He discovers how well they fit together in bed…in the shower…in the hallway… He needs Pike more than he could have imagined, yet he doesn't know how to be the man Pike deserves.


Review: If you've read the #gaymers series by Albert, then this book starts off essentially where the last one in that series ended. Off Base starts the new Out of Uniform series, but the couple from the last #gaymers novel does appear in Off Base. I really like how the author created a new series but connected to a previous one, especially since I really loved that series.
As for Off Base, I really enjoyed it too and I can't wait to see what the second book, At Attention, brings. Off Base follows navy SEAL Zack and new professor Pike. These two have known each other for awhile, as their respective best friends are dating. However, while Pike has always had a crush on Zack, he wasn't sure if he was gay for awhile. Plus, Zack didn't really hide that he wasn't much of a fan of Pike. This is mostly due to Pike's forward nature and flirting. While Zack is a hard-working guy and loves his friends, he's hiding his sexuality due to a very conservative and religious family. His brother is a screw up, so his parents are always commenting on getting one son right. Zack knows they won't still think that way if he ever comes out.
While I understood Zack's reason for staying in the closet, sometimes I did want him to think of himself more often. Regardless, you have to love him. Pike too, as he's a really patient guy who wants to show Zack love that he hasn't received from anyone else. The two end up being roommates before anything romantic occurs, and that's how they got to know each other better, and I loved that.
Definitely recommend!
I'm an Amazon Associate, so if you want to get the book from Amazon, I'll get a small percent. Check it out here.





Long Shadows by Kate Sherwood


Review by Lauren


source: copy from Netgalley; all opinions are my own


Official Summary: LA cop Jericho Crewe got the hell out of Mosely, Montana, when he was seventeen. Fifteen years later, he's back, and everything is just as messed up as when he left. He planned a quick visit to deal with his injured father, but of course things are never that simple. Family complications, police complications, social complications—and, as always, Wade Granger complications.

Jericho and Wade had been so close, once upon a time. First friends, then more than friends—and then, after Jericho's escape, nothing. Wade's magnetism hasn't been lessened by a decade and a half apart; even when Jericho learns that Wade is the prime suspect in the death of Jericho's father, the old connection still sparks.
When Jericho's newly discovered half siblings are kidnapped, he needs to trust someone to help him find them. Wade's a terrible choice, but Jericho's never been known for his good judgment. Anyway, he'd rather make a bad decision with Wade than a good one with anybody else.


Review: One thing that you don't tend to get with m/m books is a sequel with the same characters, so I'd like to start this off by saying that Long Shadows has a sequel (not out yet) and I'm so excited. If that doesn't tell you how much I enjoyed Long Shadows, then I guess I'll have to write some more.
Something else that's different from most m/m novels is that there is no physical relationship in this one. It's first and foremost about Jericho Crewe coming back home because he thinks he's father's had a bad fall and he's planning on finding someone to care for him so he can get back to his new life in L.A. Upon his arrival, he realizes that his dad is actually dead and his old friend, and more, Wade Granger is on the top of the suspect list as Wade and Jericho's father did illegal dealings together.
Jericho also learns his father remarried and has two other kids, and they are definitely in danger, meaning Jericho has to stick around and try and keep them safe. He also works with Wade, and another old friend – and new sheriff- to figure out just what happened to his father and why. It's a bit of a mystery, full of suspense and intrigue. It's also about going home to a place you wanted to run away from and wondering if things have changed enough to stay. It's about old friends, and old loves, and trying to make things work. Like I said before, there is no physical relationship, but I have a feeling that might change a bit in the sequel.
Long Shadows is a quick, enjoyable read!
I'm an Amazon Associate, so I get a small percent if you buy from them. Check out Long Shadows here.