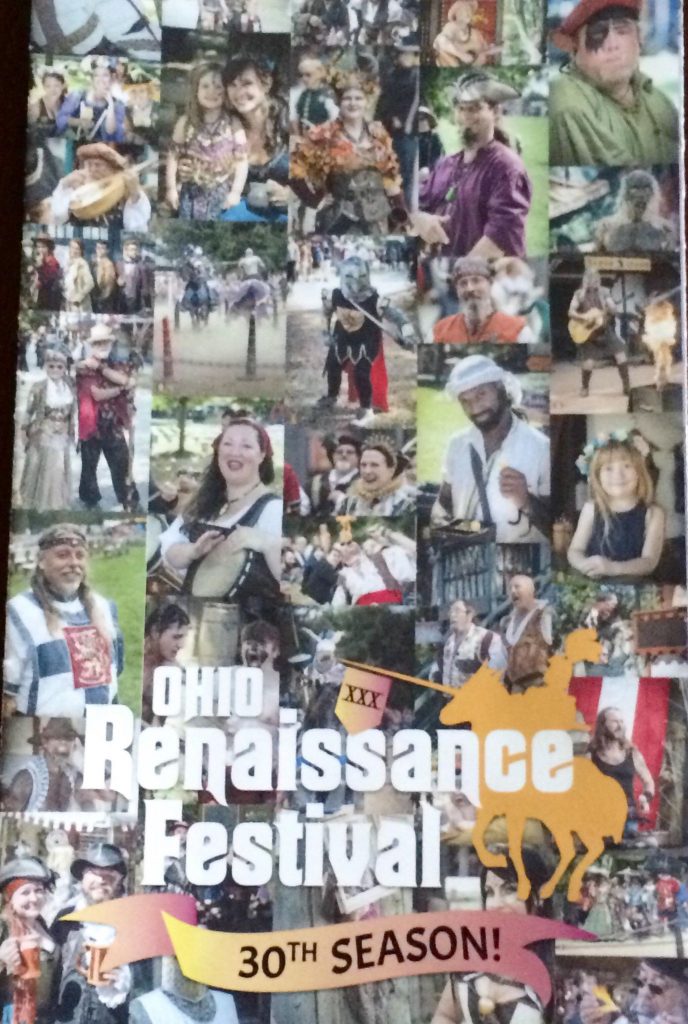 Thanks to the Ohio Renaissance Festival and US Family Guide for allowing me to attend this year's festival. It's going on every weekend through October, so if you're nearby, definitely check it out. Plus, they are celebrating their 30th year and that's pretty fantastic, right?!
It's been 30 years of the Ohio Renaissance Festival...check out my review! #ohiorenaissancefestival #ontheblog
Click To Tweet
Ohio Renaissance Festival 2019: A Review
The last few times I attended the festival, I saw a lot of the same acts, so this year, we figured it would be fun to finally branch out and see more of what the Ohio Renaissance Festival has to offer. I went with my mom and sister and as always, we had an absolute blast!
The Swordsmen
One of the first shows we saw were The Swordsmen, who did a fantastic job. There was a lot of comedy, some sword work, and even some audience participation. Most of the shows tend to have audience participation – usually men- and almost all the shows have comedy. Regardless, each show is a lot of fun and you obviously get something a bit new each time.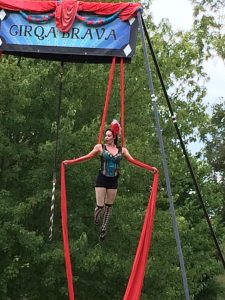 Cirqa Brava
These two lovely ladies were actually the final show that we watched, and they did an amazing job. I love these type of circus acts. If you look at the first photo, the one on the left was a really awesome contortionist and she played that up throughout the show. The lady on the right never spoke a word, but she was still amusing and fantastically talented.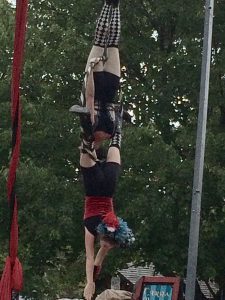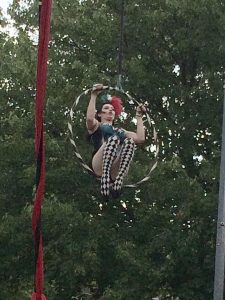 There was a hoop, some silks, and even "floor/table" work if you will. This show had me laughing, and it's one I'd definitely watch again in the future.
You Gotta Eat!
I tend to eat the same things every time I go, but this year, I was especially limited since I'm supposed to avoid gluten. I think there might be gluten in the caramel sauce, but I couldn't pass up this caramel apple and it was really, really good. I didn't feel great later, but worth it! LOL The Ohio Renaissance Festival has a large assortment of food throughout the grounds though, so most people should be able to find something. You can find a full list on their website.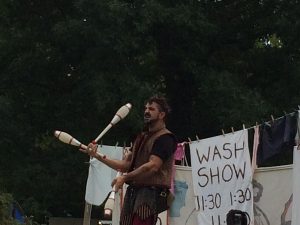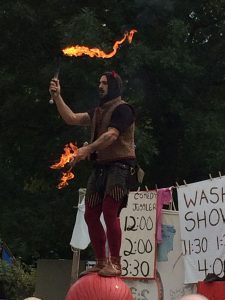 Ari, Ari the Comedy Juggler
Juggling and comedy?! You really can't go wrong. This was a fun show, with a lot of different types of juggling – including some fire! He even had a young girl from the audience come up and help a bit and she was really cute. Ari Ari definitely had me laughing…and amazed by his juggling skills!
You Gotta Shop!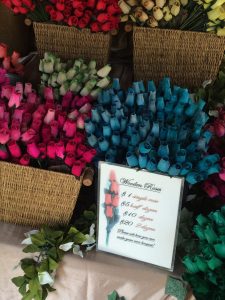 Along with all the food and shows, there are plenty of shops and things to buy. There are usually the same shops every year, but it's still great to look around because each place tends to have more than one item you want. My sister was the shopper this year, and one of the really cool items she got were these wooden flowers. You can get one flower for $1 and six flowers for $5, etc. Such a great deal for these beautiful flowers that will never die! As you can see in the photo above, my sister chose to get six flowers. They even spray them when you buy so it has a scent for a little while. So cute, right?
Congratulations on 30 Years!
It's been 30 years of fun and festivities, and I hope there will be many more years to come for the Ohio Renaissance Festival. Thank you for allowing me to attend. I had a great time, and I hope that anyone who lives close enough will go and check it out. It's not just for kids either, so go have fun!