I was given three free tickets to attend the Ohio Renaissance Festival, but all opinions, as always, are my own. I went this past Sunday, September 3rd, with my mom and sister. Labor Day weekend was the opening weekend and therefore, it was open Saturday, Sunday, and Monday. Normally though, you can only attend on Saturday or Sunday, but you have until October 29 to make it out! I'd been to the Ohio Renaissance Festival before but the last time had been a couple years, and before that, it had been a really long time. Basically, I was really excited to be back again and I thought I'd break things down for those who would like to check the festival out this fall!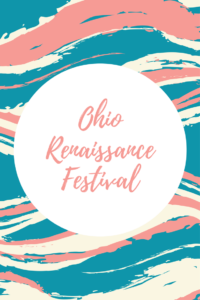 I recommend going a little later in the season simply because the weather should be better. It was actually a lot warmer than I thought it was going to be and I got a bit overheated at one point and had to sit down and drink a lot of water. However, the fall weather seems to be coming in, so every weekend here on out should get a little better! Plus, Labor Day weekend had a buy one/get one ticket deal and that meant it was probably a lot more crowded than normal.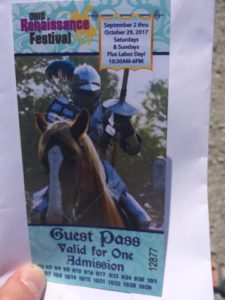 Tickets
Since my tickets were complimentary, I was able to pick them up at will call – which is placed by the ticket lines. I would recommend buying tickets on their website beforehand so you can simply show your ticket and go in. Otherwise, you might be in a line to pay – depending on when you arrive, it could be a bit of a wait. It didn't take any time at all for them to check my ticket and let me in though! The only other thing you must pay for is parking, which is $3 per car.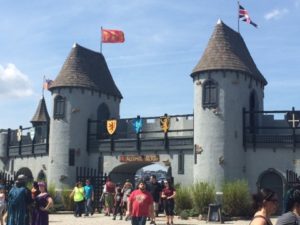 Food
Once you're inside, you can turn to the right or the left to find food options (we went to the left). I would recommend looking at the map you're given when you enter because it shows you where all the specific food is – turkey legs, chicken tenders, apple dumplings, hot dogs, gyros, and more. My sister was pretty hungry when we got there though, so we went to what I'm going to call the food market. It's a stand you walk up to with various windows to order at.
Now, if you're going to the Ohio Ren Fest, I have to tell you that there are specific food items pictured above the windows – we assumed this meant you went to that line for that item. Nope, you can order whatever you want from any of the windows. Unfortunately, we realized this after my sister waited a long time for her chicken tenders and fries. You learn as you go though! We knew better for the next time – right before I left I got a Belgian Waffle Sundae which was quite tasty! Unfortunately, I had to make sure I wasn't spilling the ice cream everywhere so I didn't get a photo!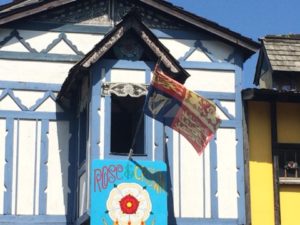 Restrooms
Okay, to be honest, before we ever got food, we made a beeline for the restrooms. Look for the sign that says Privies (or consult your map). I assumed the toilets would just be porta pottys and that is what they look like on the outside, but there are actual toilets that automatically flush when you go inside. It was much cleaner and nicer, and I have to commend the festival for this! It makes going to the bathroom not so cringe-worthy, especially when it's so hot out!
Entertainment
Now, when you think of the Renaissance Festival, you might be thinking that all the entertainment is for children – but that's not true at all! Yes, there is plenty for kids to do, so it's a great family outing, but it's just as fun for adults to go on their own (like I did with my mom and sister) so don't be afraid to go even if you don't have a child. One of the things that my mom really wanted to do at the festival was see the jousting, which always makes me think of the movie A Knight's Tale – which is a good thing! If you are interested in the jousting, I recommend getting there a bit early (various showtimes throughout the day – remember, check your map!) so you can find a seat. There is a lot of seating for this particular event, but we were still stuck standing in the back. Regardless, it was a fun event and everyone – kids and adults – seemed to enjoy it.
There are a ton of other shows throughout the day on various stages. This is the only one we were really able to see, but there is a fire show I'd seen in the past put on by the Kamikaze Fireflies and they are great, so that's another show I'd recommend!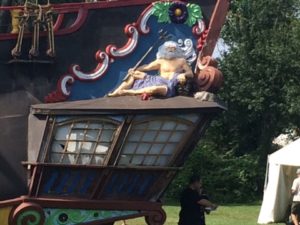 The photo above is actually part of a ship that makes up another stage where you can watch other shows. I just really loved the look of it, so I had to share. This is right next to where the jousting takes place if you're looking for it!
I was pretty worn out by the time we made it around to the Tower of London, but it's something I remember seeing as a kid and I'd love the chance to go back and check it out again. I do recommend vsiting- though it might be a bit scary for really young kids, or the easily frightened.
Like I said above, there are a lot of fun activities for kids too like rides, face painting, games, and more, so if you do have a family to bring – I'm sure they will have a lot of fun!
Shopping
Now, one of the things that I love about the Renaissance Festival are all the fun shops throughout the place. It's really like one big town that you get to explore all day, with all sorts of fun items to peruse – and possibly buy!
My sister and I found a shop full of fun garden fairy items, as well as some cool dragon eggs, and this little fairy garden was right next to it so we had to use it as a photo op! By the way, the hat is new and it was perfect for someone who has no prescription sunglasses and needs the sun out of their eyes. It's from Target, if you're curious!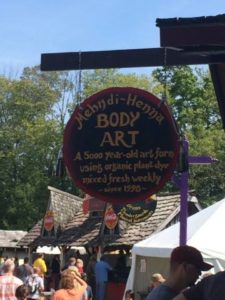 Further in, you can find a shop where they do henna. We didn't stop by this year, but the last time I went, my sister got a little design on her wrist. Earlier this year I had henna done and it was so cool, so I recommend using this opportunity if you've ever wanted to check it out. Henna is painted on your skin and lasts for a few weeks or so, usually, allowing the wearer a temporary tattoo of sorts.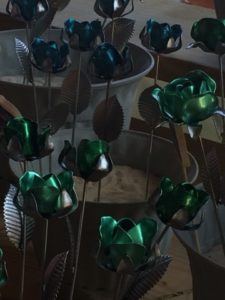 I absolutely loved these metal flowers. I know the littlest buds were $12, but they go up in price from there. It would be so much fun to collect these – a new color every year. You'd have a full bouquet after awhile! Don't you love the colors? They also had some others, such as pink.
The one item I had to purchase was this magical map. I got The Marauder's Map from the Harry Potter series, but they also had Gotham City, other fantasy maps, and even some actual maps if you wanted something with Ohio or a country. I'd seen this shop the last time I went to the festival and didn't get anything, so I had to buy something this time and I'm so glad I was able to find something Harry Potter related. Plus, it's only $10!!
Here's a closer look at the map. Obviously none of the maps are accurate, but for Harry Potter fans like myself, this is a must-have for their collection. I'm sure you'd find a map you just had to have too!
Ohio Renaissance Festival Review: you don't need kids to have fun! #ontheblog
Click To Tweet
Final Thoughts
Visiting the Renaissance Festival is a lot of fun and it's something I'll definitely do again. It's even easy to see why people go multiple times in one season. You can't possibly do, see, and eat it all in just one visit! Plus, every weekend has different themes – like time-travel – so that adds a unique touch to each visit too!
What do you think? Are you going to check out the Ohio Renaissance Festival for yourself? Or are you visiting your own local Ren Fest?