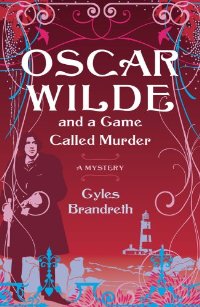 Oscar Wilde and a Game Called Murder by Gyles Brandreth

Review by Lauren

Copy from- I bought this myself

Official Summary: It's 1892, and Wilde is the toast of London, riding high on the success of
his play Lady Windemere's Fan. While celebrating with friends at a dinner
party he conjures up a game called "murder" that poses the question: Who would
you most like to kill? Wilde and friends — including Arthur Conan Doyle, Bram
Stoker, and poet Robert Sherard (the novel's narrator) — write the names of
their "victims" on pieces of paper and choose them one by one. After leaving the
party, Wilde scoffs at the suggestion that he may have instigated a very
dangerous game indeed….


The very next day, the game takes an all-too- sinister turn when the first
"victim" turns up dead. Soon Wilde and his band of amateur detectives must
travel through the realms of politics, theatre, and even boxing to unearth whose
misguided passions have the potential to become deadly poisons…not only for
the perpetrator of the seemingly perfect crimes but also for the trio of
detectives investigating them.
Review: This is the second installment in the Oscar Wilde mysteries and one that I have been meaning to read for a long time. I actually read and reviewed the first book, Oscar Wilde and a Death of No Importance, back in 2008 and I talked about my enthusiasm for the sequel due out that fall. Wow, 2008 to 2012 and I'm just now moving on through the series. I wish I had read this one sooner; but that's why 2013 will hopefully allow me to read some of my own books more. After A Game Called Murder, there are four more books (six in all) so I really need to continue on quicker!
Back to the book I'm here to review. I feel like I've talked about this book to death (pun intended), but that's because it was the detective fiction novel I chose to read and present to my class in my detective fiction class. And I'm happy to show it off to you all now because it was an amazing novel.
There was a great mystery that kept me guessing and wondering- and I never did figure it out. Oscar Wilde is a fabulous character, and a great detective. The novel is filled with real Oscar Wilde quotes, and others that are probably Brandreth's creation, but sound exactly like you'd imagine Wilde would speak.
Brandreth was actually lucky to speak to a man who knew
Oscar Wilde in life, giving him a first-hand account of Wilde's personality and
conversation style. This gives an added sense of historical basis on the novel.
Obviously, the book is fiction. You can't go into it expecting to learn
anything particularly profound about Oscar Wilde. It does include some real
people, though, apart from Wilde.
The characters in this novel really add a sense of fun and
amusement to readers. You get Arthur Conan Doyle (whose Sherlock Holmes is
someone Wilde is often compared to), Robert Sherard (the narrator of these
books and a real-life friend of Wilde), Bram Stoker (author of Dracula- a few
vampire jokes to enjoy), and Lord Alfred Douglas (the cause of Wilde's
imprisonment, if you know anything about Wilde's biography).
I don't want to go on too much, but just know, this is a wonderful book in a fantastic series and I cannot wait to get my hands on the third book!