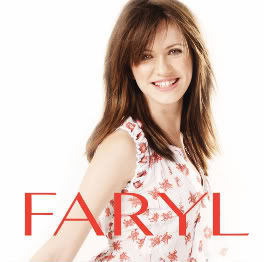 Interview with Faryl Smith
By: Lauren
Website: http://www.farylmusic.com/
So you've read my review of her album and even entered to win your very own copy, which if you didn't win you should think about picking up a copy for yourself or someone else, but now you get to hear straight from Faryl herself. I just have to say that I'm kind of excited she mentioned that she likes Hollyoaks…if you've been following my blog, you should know by now that I do too (even though it's a UK soap and it's hard for me to keep up).
1.You got your big break by participating in Britain's Got Talent. These days, that show is all over the place showing off new surprising singers such as Susan Boyle. What was your experience like when you were on the show? If you could talk to any of the other people getting attention from that show, what would you want them to know about life after?
My experience on Britain's Got Talent was fantastic. I have never done anything like it before and it was probably one of the best experiences of my life so far. If it wasn't for Britain's Got Talent I would not be where I am today, and I am extremely thankful. My life has changed so much since the show and I am doing things that I never would have imagined. I think that shows such as Britain's Got Talent can really change people's lives and open many opportunities for their career.
2. Your debut album, Faryl, did absolutely amazing on the charts outselling a lot of big names such as U2. Can you describe your first reaction when you heard how successful it was doing?
I have never thought that a young girl from such a small town as Kettering would do so well, so I was so happy, but also very shocked. The whole experience was very exciting for all of my friends and family too.
3. Speaking of the album, I'd love to know your thoughts on recording one. You're only thirteen years old, but you've already been able to work with a lot of people and release your own music. Do you have any specific memories you'd like to share? What's your favorite song to sing off of the album?
I was quite nervous when it came to recording because recording and performing are completely different things and I was only ever used to the performing side. However all of the people that helped with my album was so friendly and made me feel really comfortable. The producer of my album, Jon Cohen, is one of the nicest people I have ever met and I was very privileged to have worked with him, as he is also an expert when it comes to music! My favourite song on the album would probably have to be "River Of Light" because the blue danube is such a well known track, but it has never had words written to it before, so to be the first person to sing it with words if great. Also I think that it is quite different, and I like to be different.
4. You might sing classical music, but no matter what genre, if you could sing or work with any artist nowadays who would you pick and why?
Without a doubt I would have to say Beyonce, because she can sing anything from ballads to chart music and also she is always herself and seems like a lovely person.
5. As we mentioned before, you are only 13 years old. How has your life changed day-to-day since getting your record deal? Do you still go to regular school?
Yes I definitely still go to my regular school, my mum and dad always try their hardest to keep me grounded and I think that still going to the same school with all of friends helps a lot. Like I said earlier my life has changed but for a lot of very good reasons.
6. On a more personal level, what are you interested in these days when it comes to music, television and movies? Give them a shout out!
Well when it comes to music I like whatever is in the charts really but probably things like Beyonce (again) Lady Gaga, Taylor Swift, Lily Allen, Flo Rida, Katy Perry etc…I love soaps like Hollyoaks, Eastenders and Corrie. I usually just watch MTV all the time as well. Movies I don't really have favourite films but I do love the film 'My Girl'.
7. And finally, because we must always ask: if you could wish on a real shooting star, what would you wish for and why (though I'm sure many of your wishes have already come true!)?
Well like many other children my dream was always to be famous and also when I was little I always dreamt of singing on big stages to large crowds.And these dreams are now becoming a reality.