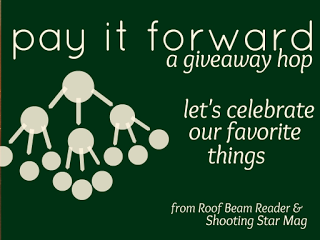 Adam from Roof Beam Reader and I are hosting a giveaway event in honor of author, Catherine Ryan Hyde, where you can win one of four prize packs…a fifth might be added later if we get lots of entries. However, this event is also leading up to a Pay it Forward blog hop where any and all bloggers can take part. It will be at the end of June (23-30 I believe) and all you have to do is host a giveaway (of any value) for an item that you believe deserves more recognition…hence, Paying it Forward. Adam and I are honoring Catherine right now but you don't need to be a book blogger to take part.
You can spread the word about the event and/or buy copies of Catherine's books to be entered into the prize packs!
For the blog hop, visit the same link to sign up your blog and spread the word about that as well…and be entered into the prize packs!
So please, visit Adam's post and enter, sign up for the hop, and spread the word!!
I will be adding a page to my blog (you can find it above) where I will keep score of who has entered and how many points they have. If you buy a Catherine book, I will include the book title(s) as well. If you want your name linked to your blog on this page, let me know in your email and I will do so. So, please enter! Great publicity for your own blog too.