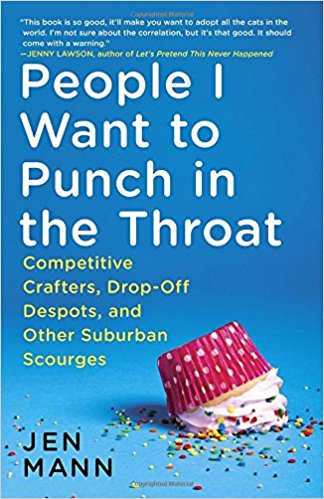 People I Want to Punch in the Throat: Competitive Crafters, Drop-Off Despots, and Other Suburban Scourges by Jen Mann
source: library e-copy; all opinions are my own
Official Summary
:
Jen
 Mann doesn't have a filter, which sometimes gets her in trouble with her neighbors, her fellow PTA moms, and that one woman who tried to sell her sex toys at a home shopping party. Known for her hilariously acerbic observations on her blog, People I Want to Punch in the Throat, Mann now brings her sharp wit to bear on suburban life, marriage, and motherhood in this laugh-out-loud collection of essays. From the politics of joining a play group, to the thrill of mothers' night out at the gun range, to the rewards of your most meaningful relationship (the one you have with your cleaning lady), nothing is sacred or off-limits. So the next time you find yourself wearing fuzzy bunny pajamas in the school carpool line or accidentally stuck at a co-worker's swingers party, just think, What would Jen Mann do? Or better yet, buy her book.
Review
: 
I actually read Mann's holiday edition of essays and thought they were quite amusing, so when I saw this collection on my library's e-site, I decided to finally check it out. Since it is a collection of essays, the book is a quick and enjoyable read. While I don't agree with everything Mann makes fun of, I do appreciate the humor, and really, if you don't have a good sense of humor, this is not the book for you!
What's fun about this book is that it's basically a memoir of sorts, detailing various moments in Mann's life, but it infuses all the stories with enjoyable and funny moments. I love a writer that can make me laugh, because it's not easy to do, and Mann does make me laugh! 
Mann is enjoyable to read about because she obviously doesn't have much of a filter in her real life. She's okay with stating her opinion and speaking up when others won't. She's a mom and wife, but she's not trying to be the #1 mom and wife, and I commend that. There is no such thing as perfect, so embrace the chaos!