Show Us Your Books: Perfect October Reads
In honor of October and Halloween, I thought I'd share a few mini reviews of books that I've read in the last month or so that I think would make the perfect October reads. I'm linking up with Jana and Steph for Show Us Your Books; join us or browse to find your next read!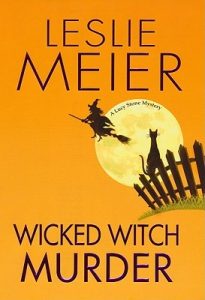 Wicked Witch Murder by Leslie Meier
Review by Lauren
Source: library e-copy; all opinions are my own
Review (add to Goodreads): Wicked Witch Murder is the 16th book in the Lucy Stone series. Don't worry, while you hear about the various characters growing up (such as Lucy's children), each book is its own mystery and you don't need to read them in order. I've read various books from this series and they have never been in any sort of order. Obviously I chose Wicked Witch Murder this time around because I figured it would be a good Halloween read. While I liked this one okay, I only gave it three stars, and I don't recommend you start the series with this one.
Basically, Lucy stumbles across a dead body in the woods, and people in the town start to blame the resident witch, Diana Ravenscroft, except Diana isn't your pointy-hat, broom riding, variety of a witch. She actually practices Wicca, which is all about harmony, but not everybody is informed enough to see that and believe that she's sacrificing people in the woods. It's an interesting concept, but I don't know that the author handled the topic of Wicca well enough, though I can't say more than that for fear of spoilers. At any rate, this is a fun cozy mystery series, so I do think the books are worth checking out – just maybe not this one, unless you read them all!
All the Truth That's In Me by Julie Berry
Review by Lauren
Source: library copy; all opinions are my own
Review (add to Goodreads): For two years, Judith was missing from her town, and now it's been two years since she's been back and people shy away from her, believing she is cursed. She came back with no tongue and her mother forbids her to even try to speak, so she lives her life in silence. The book is told in Judith's point of view, except she's writing to her childhood friend, Lucas. Therefore, it's almost like reading a letter – when Judith says "you", she means Lucas. This writing style might not be for everyone, but don't let the idea of it stop you from trying the book. It grows on you as you read and I didn't find it confusing at all.
All the Truth That's In Me never gives you the timeline of when it takes place, but it's obviously many, many years ago as Judith's town is afraid of outsiders attacking their town and taking over, leaving them all for dead. It's this impending attack that starts Judith's new journey of finally being truthful. She finds that she has a lot more to say than she realized, and that maybe some people want to hear it.
This is the first Julie Berry book I've read, but it's been one I'd wanted to read for awhile now. Thankfully, my library-led book club read it. My sister and I both loved it, while others were a bit unsure. It's an interesting book that leads to a lot of discussion and some of what you think happened, or is happening, isn't quite what it seems, so that adds a bit of mystery!
Three mini book reviews #ontheblog - the perfect October reads! #bookbloggers
Click To Tweet
Vicious by V.E. Schwab
Review by Lauren
Source: personal copy; all opinions are my own
Review (add to Goodreads): I've owned Vicious for years now – I actually own two copies, with different covers. However, it wasn't until last month that I finally read it in anticipation of its sequel, Vengeful, coming out (which I do own and hope to read later this month). Vicious is absolutely amazing, and I happily and easily gave it five stars. I highly recommend!
Essentially, the book is about Victor and Eli, college roommates, who discover how to give themselves powers – turning them into EOs or ExtraOrdinaries. Vicious takes you back and forth, from college days, to the present, where Victor has escaped prison and is on the hunt for Eli. What made two college friends turn into enemies? Obviously it has something to do with their newfound powers.
Schwab is an amazing writer, and she expertly weaves this story, leaving you wanting more and more as you flip the pages. Vicious is an adult book, though if it were a movie, it would be more PG-13 than R. I loved how morally grey the characters are, especially Victor. He's not a saint, or always a hero, but he's not necessarily the villain either. Vicious is a fascinating character study. Plus, there are some fantastic secondary characters that readers are sure to fall in love with, such as Sydney and Mitch. I do highly recommend this book, or anything by V.E. Schwab really, though I've only read her Shades of Magic trilogy so far, apart from Vicious.