Pizazz by Sophy Henn
copy from publisher; all opinions are my own
Official Summary: Most people think superhero work is awesome and fulfilling. Pizazz knows better. Whenever she's in the middle of a movie or having fun with her friends, she has to dash off the save the world. And she's always in the same outfit, including an embarrassing glittery cape, and the wedgies are unreal. Plus, being the good guy all the time is so not easy. Superheroes have bad days like everybody else, but Pizazz always has to be cheerful and noble and brave. More than anything, she just wants to be normal.
Review: Pizazz is a really fun new character for middle school readers – especially those that aren't the biggest fan of books! It's full of fun fonts for certain words and even more enjoyable illustrations throughout. For me, I read this in one day, so it's a fairly quick one overall!
I loved the idea of a young superhero (in a family of superheroes) who just wants to be normal. She's not opposed to certain things, like being able to fly, but she hates her super embarrassing power (it's not cool like creating fire, which is what her little sister can do) and she hates having to drop plans even more. I think we can all relate to wanting to settle into a good book…or a good pizza…and then having to rush around and do something else. That's the (almost) everyday life of Pizazz. Not to mention she's had to move, start a new school, and currently has no friends and desperately misses her two besties.
The illustrations throughout are really fun and I love how they are included around the text and not simply on otherwise empty pages throughout. I also really liked the comic book aspects. When Pizazz is telling a story, or she has a superhero mission, the book is written in a comic style, which was fun! The rest of the book is a straightforward narrative.
I will say that the villains Pizazz and her family fight are all very much geared toward a younger audience – aka a giant baby and another that vomits. This might help appeal to more boys as well, since I know some younger readers don't like books with girl main characters. It's all very silly, but still fun. I appreciated that the more serious aspects, if you will, occur in the everyday life of Pizazz: making new friends, feeling like her sister is better at everything, having to deal with a non-superhero "fight."
If you would like your own copy of Pizazz by Sophy Henn, feel free to use my affiliate link and support independent bookstores! This is just book one in the series, and book two Pizazz vs. the New Kid, is out now too.
Craft A Book
Craft a Book is a feature that I do occasionally where I share a craft or two I've found online that I think would fit the book. Since Pizazz is all about superheroes, I thought I'd share some superhero themed crafts that would make a fun activity along with reading the book(s). Be sure to click over to the blog if you wish to pin any of these images for future use, so you are taken directly to the craft.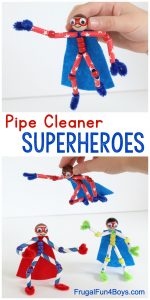 Frugal Fun for Boys and Girls shows you how to make some really adorable Pipe Cleaner Superheroes.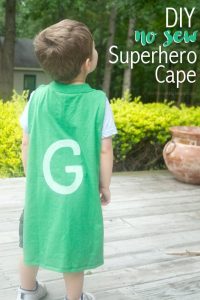 In the book, Pizazz always has to wear a cape. Let Pretty Providence show you how to make a No Sew Superhero Cape!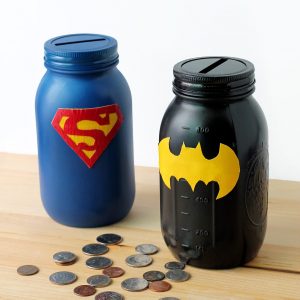 Finally, Fireflies + Mud Pies breaks down how to make your own Mason Jar Superhero Banks!