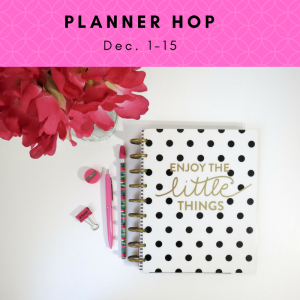 From December 1st to the 15th, Anna from Herding Cats and Burning Soup and I are hosting a Planning Blog Hop! We'll have a linky on both of our blogs (it's the same link-up so you only have to post once) that will be open from the 1-15 so you can link up any planning/planner related posts and giveaways. If you do a giveaway, it can end whenever you want (and the rest of the rules are completely up to you) but you must link it up with us before the 15th. As for the other posts, you can write new ones and link those, or take older posts you've already done and share them instead (or do a mix of both!) It's not a very strict blog hop.
All Things Planner! Link up your reviews, thoughts, and giveaways December 1-15 #planning
Click To Tweet
Both Anna and I love all things planner, so we thought it would be a fun idea to share in the love with other bloggers. We're closing the link up on the 15th so that people have time before January 1st to grab a planner and get started! Whether you do your own post or not, we'd love to hear your thoughts about planners in the comments. Do you plan? What do you use (a regular planner, bullet journal, etc.)? How do you feel about all the extras (stickers, washi tape, etc.)? You can answer these questions in your own blog post too – anything planner related goes!
Please spread the word – we'd love to have as many bloggers taking part as possible to get a wide range of ideas and thoughts! Feel free to use the above image and link back to either of our blogs!
Also – would you want one big linky, or do you want one for posts and one for giveaways?
Want to join us in the hop? Sign up here!