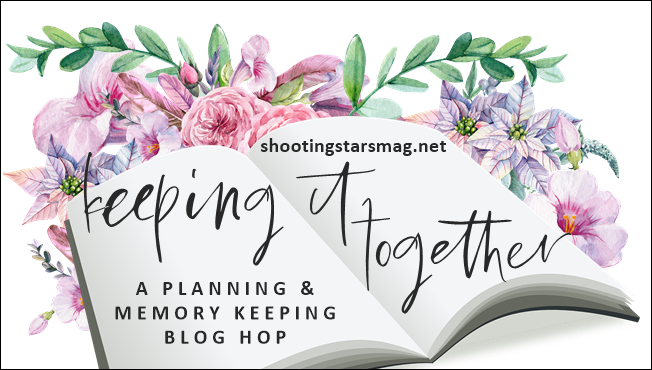 Happy Thursday! I'm here today with the Keep It Together link-up, co-hosted with Alexandra and Rebecca Jo. If you have a post about scrapbooks, planners, or memory keeping of any kind, please link up with us below!
Life is so strange these days. I actually had a lot of things planned for April, so it's kind of sad to look at the monthly overview and realize I had to erase almost all of it. However, I do have some virtual events that I'm really excited about- my dance classes (tap and cardio hip hop) are now on Zoom, as well as one of my book clubs (which is tonight). I can share more about this in another post if anyone is interested.
I also have my doctor appointments via video chat, which I am very lucky that I'm able to do. Some appointments could be pushed back/rescheduled, but some are more necessary like my therapy sessions – especially these days! I think we all have things to be anxious and depressed about, and it's always good to talk things out, right?
Now let's take a look at some of what I included for April:
I have a Watching sticker that says Schitt's Creek at the very top. I don't know the exact date I started this, but I am watching for the first time via Netflix and it's so good! I'm almost through with the second season.
On the right hand side, everything is written with green or pink pen. I didn't do this on purpose, but when I realized it was happening, I figured I'd keep it up because it's kind of pretty!
April 1: Today has been cancelled sticker. So much has been cancelled, especially this month, but April 1 was also April Fool's Day and I know I wasn't having any of that!
And finally, I tried to decorate with more stickers than normal – most of which are happy or positive sayings:
Good Things Are Going to Happen
Life Doesn't Have to Be Perfect to Be Wonderful
Think Happy Thoughts
Don't Overthink. Just Let It Go.
Put On Your Positive Pants
Not everyday is going to be great, but I'm trying to take things day by day, or week by week. I don't want to think too far ahead into the future because those plans are more likely to change. I'm someone who uses planning to ease my anxiety/depression. I like having things to look forward to. That was a big adjustment for me when things really started to shut down, but I'm slowly getting better at making virtual plans and I'm always trying to find new ways to keep in touch with friends and family!! It's the little things, but it's something!
Do you have any virtual plans coming up? How are you making memories these days?
You are invited to the Inlinkz link party!