The fashion sense from the girls of Pretty Little Liars never fails to impress. Whether it's during a fashion show, Masquerade Ball or for Halloween the girls are always dressed to impress.
all photos were available to use for promotional purposes
Some favorite Pretty Little Liars Fashion Moments of Season 2
Rosewood Charity Fashion Show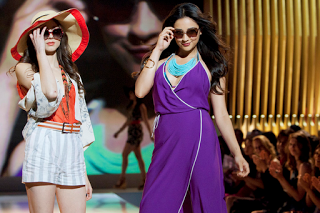 Troian Bellisario as Spencer Hastings and Shay Mitchell as Emily Fields…I just really like these outfits and the colors really pop. Great for the summer! And the purple on Emily is beautiful.
Halloween Party
Shay Mitchell as Emily Fields again…I love her little Indian/Pocahontas costume for the Halloween party. I would totally wear this, and the pigtails are adorable!
Masquerade Ball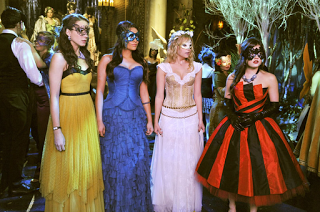 Troian Bellisario as Spencer Hastings, Shay Mitchell as Emily Fields, Ashley Benson as Hanna Marin and Lucy Hale as Aria Montgomery. And finally, we have the Masquerade Ball and I love ALL of these outfits. Seriously, they are all beautiful and flowy and fun. Spencer's yellow is too cute, Emily's blue is chic and stunning, Hanna's white makes her look like a cute fairy, and Aria's red and black combo is daring and gorgeous!
Buy Pretty Little Liars Season 2 on DVD Now!
Pretty Little Liars: Tuesdays at 8/7c on ABC Family
I have been hired by Warner Bros WBWord division to raise awareness for Pretty Little Liars.