*this post does contain some affiliate links; clicks/purchases give me a small percent at no extra cost to you*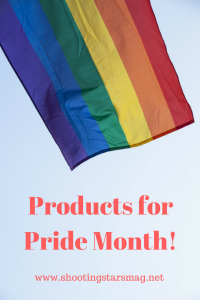 Happy Pride Month everyone! Whether you identify as LGBT+  or not (and if you're not aware – I'm bisexual), I hope you will find something in this post that will allow you to celebrate Pride Month, which takes place in June (at least in the U.S.) So here we go – Products for Pride Month!
Happy Pride Month: Check out my latest blog post to find Products for Pride #ontheblog #happypridemonth
Click To Tweet
Products

for

Pride

Month
Out of Print Clothing
They released an LGBTQ Pride Collection and I want everything on it – anyone have some extra money lying around?!
One of the items you can get are these fun Read the Rainbow socks – only $10! This print is available as a t-shirt and a tote bag too.
Harry Styles
Singer/songwriter Harry Styles (yes, of One Direction fame) has a special LGBT+ Pride Treat People With Kindness t-shirt available.
I think this is limited, so don't delay in ordering!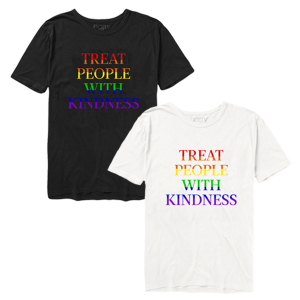 You know what's even better? You are supporting a great cause by ordering one of these t-shirts (black or white).
From Harry's website:
In celebration of PRIDE month, all proceeds from these T-Shirts will go to support GLSEN's work ensuring safe and inclusive schools for LGBTQ youth. Learn more at www.GLSEN.org.
Some

Final

Pride

Products-
Some of these items were created specifically for LGBT+ pride, while others are just rainbow based!