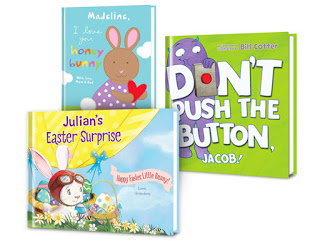 Hop Into Easter! Personalized Books for Every Basket
I love the personalized books from Put Me In the Story and I'm here today to spotlight three that you can get the little ones in your life for Easter. It's fast approaching, so don't delay! I was given the chance to choose one of these books to personalize and review and I went with Don't Push the Button by Bill Cotter. I will have my review up in a few days! For now, check out the books and be sure to enter the giveaway sponsored by Put Me in the Story!
There's only one rule in Larry's book–don't push the button. (Seriously, don't even think about it!)
Even if it does look kinda nice, you must never press the button. Who knows what would happen?
Okay, quick. No one is looking… press the button.
Larry is a lovable monster, if a bit too curious for his own good. And now, you can join in on his fun adventure!
In the personalized version of this interactive story, your child will discover all the surprises around that big red button. Read, play, and laugh along while your little one investigates just how BIG one little push can be!
This Easter, take your little one on an "eggs-traordinary" egg-hiding adventure around the world!

As fun and festive as an egg hunt, An Easter Surprise gives your child the chance to plan his or her very own Easter mission! Soaring as high as the moon in a hot air balloon, delivering eggs all over town, and stashing tasty treats all down the streets, your little one will be thrilled at the surprise twist in this Easter adventure!

Make Easter morning extra magical! Personalize this exciting Easter storybook with your child's name and hometown, along with a special message and photo on the dedication page. A sweet Easter surprise your little one will cherish long after the holiday is over!
The perfect Easter treat to add to your little "honey bunny's" basket! I Love You Honey Bunny by Sandra Magsamen is a fun and heartfelt story to remind your little one just how much you love and cherish them. Cuddle up close and enjoy something sweet together!

Celebrate your child by letting them know how they fill the world with love! Personalize this book with your honey bunny's name, photo, and sweet message on the dedication page. You will also have the option to customize the pronoun in this book to become "I" or "We" Love You, Honey Bunny. A darling tale with a loving message that will stay with your little one forever!
For Easter Delivery from Put Me In The Story…
·
Order USPS/Media Mail by March 9, 2016
·
Order UPS ground by March 14, 2016
·
Order 2nd Day Air by March 17, 2016
·
Order Overnight Shipping by March 21, 2016
Enter Put Me In The Story's giveaway for a chance to win a personalized Easter Book Bundle!
Giveaway ends 3/10/2016 at 11:59pm CST