The Queen Bee and Me by Gillian McDunn
source: copy for review; all opinions are my own
Official Summary (add to Goodreads): Meg has been friends with confident, self-assured Beatrix since kindergarten. She's always found comfort in Beatrix's shadow—even their families call them Beatrix-and-Meg. But middle school has brought some changes in Beatrix, especially when Meg tries to step outside her role as sidekick. Upsetting Beatrix means risking The Freeze—or worse.
Meg gets into a special science elective and wants to take the class, no matter what Beatrix thinks. But when quirky new girl Hazel becomes Meg's science partner, Beatrix sets her sights on Hazel. At first, Meg is taken aback at how mean Beatrix can be—and how difficult it is to stand up to her friend. But as Meg gets to know Hazel while working on their backyard beehive project, she starts to wonder: What's it really like to be the Queen Bee? And more importantly: Is being Beatrix's friend worth turning down the possibility of finding her own voice?
Review: I love a good middle grade novel, and I'm trying to read more of them. I felt that The Queen Bee and Me did a great job portraying middle school. It's a weird time in most kids' lives, and I could understand the tug-of-war that Meg was in when it came to her best friend Beatrix and doing her own thing. Meg doesn't want her elective to be dance – she wants it to be science. Beatrix always assumes Meg will do what she wants. That's the way it's always been.
Along with science elective, comes new girl Hazel who Beatrix is immediately mean to. Meg doesn't always do the right things, but she gets better throughout the book, which felt realistic to me. It's not easy to stand up to your friends, or to do the right thing sometimes. She gets there though, and I liked seeing Meg and Hazel become closer.
At the same time, Meg learns to see good in a lot of things – like bees! She's always been very afraid of them, but doing a project on bees with Hazel (who owns them with her mom), she begins to realize that while the idea of being stung is still scary, bees are actually really important to the way the world works.
I think The Queen Bee and Me would make a great choice for middle school girls! Also, since we are all currently stuck at home, I went on Pinterest to find some bee-themed crafts that you can possibly do with your children (of various ages).
Bee-Themed Crafts in Honor of The Queen Bee and Me
Simple Mom Project has these FREE Printable Bumble Bee Templates that you could use for coloring or any other craft!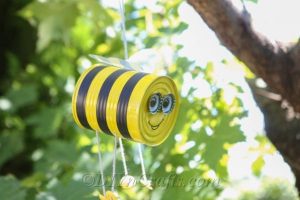 DIY & Crafts has a tutorial on how to make this cute DIY Tin Can Bee Decoration.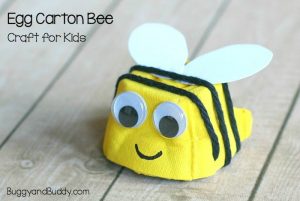 Buggy and Buddy shows you how to make this really cute Egg Carton Bee!
Easy Peasy and Fun has a fun Painted Bee Rock craft!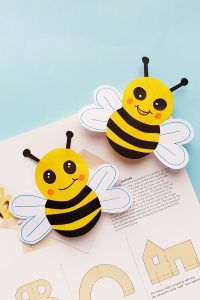 And finally, the perfect craft to make for anyone who wants to read The Queen Bee and Me – a Bumble Bee Bookmark! Mommy Made That shows you just how to make these cute bookmarks, with a bee printable to help you out too!
If anyone makes one of these crafts, please do let me know! I'd love to see the final project!