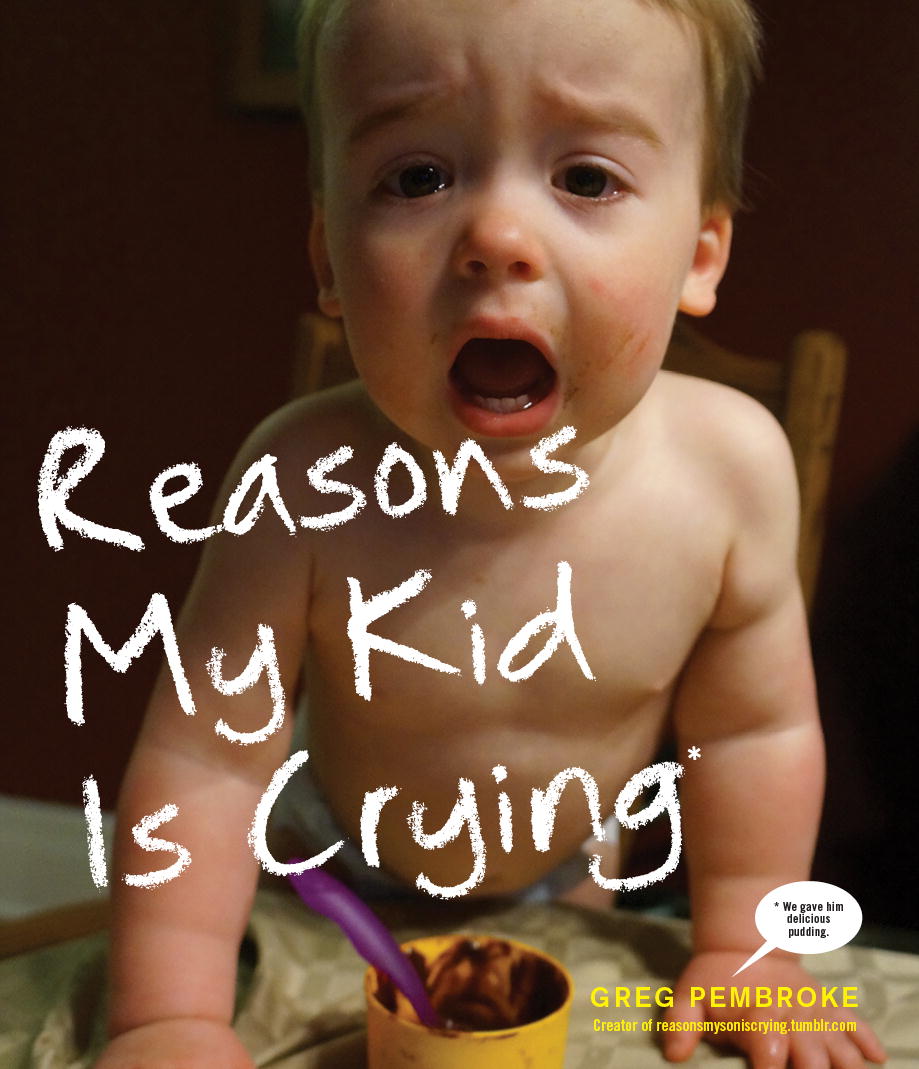 Reasons My Kid is Crying by Greg Pembroke
Review by Lauren
Source: book for review; all opinions are my own
Official Summary: It all started when busy father Greg Pembroke posted a few pictures
online of his three-year-old son, mid-tantrum, alongside the reason his
son was crying: He had broken his bit of cheese in half. In Reasons My Kid is Crying, Greg
collects together photos sent from parents around the world,
documenting the many, completely logical reasons why small children
cry. Among them: "I let him play on the grass" . . . "He ran out of
toys to throw into his pool" . . . "The neighbor's dog isn't outside".
The result is both an affectionate portrait of the universal, baffling
logic of toddlers—and a reminder for burned-out parents everywhere that
they are not alone.
Review: I might not be a parent, but I have a niece and nephew and many of my friends have children, so I knew I would find this book hilarious, and I was right! The book is broken into various sections like We are Family and It's My Party with a little intro by Greg Pembroke beforehand. In between some of the photos are dispatches from the front line, as well, where Pembroke shares fun and amusing stories about his own two toddlers, the inspiration behind the hit website.
I can definitely see why parents love the website, and now this book collection, because it gives a sense of camaraderie. Your little one might be crying over all sorts of ridiculous things, but you aren't the only one. There are people all over the world dealing with their toddler's tantrums, and these pictures allow them a chance to laugh at the craziness in their lives. Tantrums will come and go, so you might as well just let some of them add amusement instead of stress.
pages from the book; I do not own
One of the fun additions to this book are a collection of pages with frames so you can add your own crying photos, along with a line below to share what happened to make your little one so upset. I thought this was a cute way of letting other parents get in on the fun, even if they don't wish to submit their photos online for the world to see. You can just stick them in the book and share with family and friends.
Reasons My Kid is Crying is such a fun gift book! It's sure to make anyone who has been around children laugh, and I would definitely suggest gifting this to any parents in your life (especially if they have toddlers)!
I received this book from Blogging for Books for this review, but again, all opinions are my own! Learn more about the book through the links below: