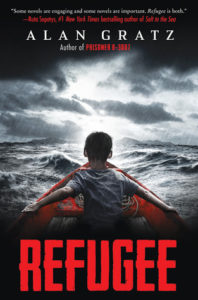 Refugee by Alan Gratz
Review by Lauren
source: copy from ALA 17; all opinions are my own
Official Summary: JOSEF is a Jewish boy living in 1930s Nazi Germany. With the threat of concentration camps looming, he and his family board a ship bound for the other side of the world . . .
ISABEL is a Cuban girl in 1994. With riots and unrest plaguing her country, she and her family set out on a raft, hoping to find safety in America . . .
MAHMOUD is a Syrian boy in 2015. With his homeland torn apart by violence and destruction, he and his family begin a long trek toward Europe . . .
All three kids go on harrowing journeys in search of refuge. All will face unimaginable dangers — from drownings to bombings to betrayals. But there is always the hope of tomorrow. And although Josef, Isabel, and Mahmoud are separated by continents and decades, their stories will tie together in the end.
Review: I absolutely loved this book. It's not one I'd heard about, having never read Gratz before, but when I saw the book at ALA this past June, I knew I needed to check it out. This book is not about politics. It's about the history of refugees and how everyday people can affect their lives. Yes, there is politics in play, and yes, this is an important topic in the political landscape these days, but I liked that the book focused mostly on the story of these young men and women. I say this isn't about politics, because I want this book in every classroom, every library, every home. It's about human decency, regardless of your political leanings. This book is fiction, but the author shares how he took from real people and real facts to create this very realistic and poignant story that follows three young children: Josef in 1930's Germany, Isabel in 1994's Cuba, and Mahmoud in 2015's Syria.
Refugee by Alan Gratz: a timely novel about refugees from Germany, Cuba, and Syria.
Click To Tweet
Syria is always on the news, but how much do you really know about the fighting there? Do you know how many people are refugees of that country, and what they go through to get to a safer place? I new some, but this book really gave me some of the details I lacked. I found myself with Mahmoud in Aleppo, Syria as his apartment is bombed. Along with Mahmoud, the most recent example of a refugee, this book goes back in time to allow readers to ride the ship with Josef and his family, hoping for asylum in Cuba. Then we travel the ocean in a homemade raft with Isabel, as he flees Cuba in the hope of making it to Florida.
Refugees have been around for years. They are fleeing war-torn countries and dictators that do not have the best interests of their people at heart. These are young men and women, not even in their teens, who have to face cruelty, death, and violence all the time. Even when they leave their home country, this does not stop. All three characters in this book face loss. Not all of the people with them survive to find freedom. Their journey is not easy, but it's very much a reality for refugees in the past and today.
This book brings all these stories full circle, connecting the past refugees to the present, and it's done in such a phenomenal way. While Refugee is written for a middle grade level, this is a book that every reader should check it out. It's important. Read it. Share it. Learn from it.