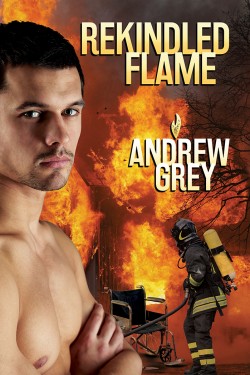 Rekindled Flame by Andrew Grey


publisher: Dreamspinner Press


Review by Lauren


source: copy for review; all opinions are my own


Official Summary: Firefighter Morgan has worked hard to build a home for himself after a nomadic childhood. When Morgan is called to a fire, he finds the family out front, but their tenant still inside. He rescues Richard Smalley, who turns out to be an old friend he hasn't seen in years and the one person he regretted leaving behind.

Richard has had a hard life. He served in the military, where he lost the use of his legs, and has been struggling to make his way since coming home. Now that he no longer has a place to live, Morgan takes him in, but when someone attempts to set fire to Morgan's house, they both become suspicious and wonder what's going on.

Years ago Morgan was gutted when he moved away, leaving Richard behind, so he's happy to pick things up where they left off. But now that Richard seems to be the target of an arsonist, he may not be the safest person to be around.


Review: I love the friend to lover trope in romance books, and that's exactly what we have here! When Morgan and Richard were younger, they were the best of friends, until Morgan's dad moves them away. Now the two are all grown up and thrown back into each other's lives after Morgan saves Richard from a house fire. Richard had been in the military but he can no longer use his legs, leaving him in a wheelchair. Due to his past military experiences -and obvious PTSD – as well as his injuries, Richard doesn't feel like anyone could or should love him and want to take care of him.
Morgan does though. He might not have been in the military, but he's a firefighter and he has his own sad stories and nightmares. It's obvious to the reader that these two are meant to be together, but Richard definitely needs some persuasion. It doesn't help that the cops and firefighters start to believe that the arson who attacked Richard's house, where he lived with friends, was specifically after him and not just a random victim or the other family. This definitely turned Rekindled Flame into a suspenseful read in a number of reads. I kept reading, desperate for these two to be together, but also t be safe from whoever is out there attacking Richard.
Overall, this was a really good read! I'd definitely check out more by the author.