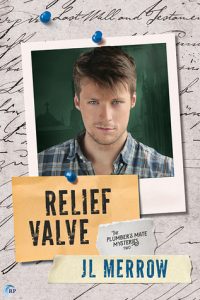 Relief Valve by J.L. Merrow
Review by Lauren
source: copy from Netgalley; all opinions are my own
Official Summary (add to Goodreads): The relationship between Tom Paretski, a cheeky plumber with a gift for finding hidden things, and PI Phil Morrison may only be a few weeks old, but already it's under attack. Tom's friends and family are convinced the former bully isn't good enough for him, and they're not shy about saying so.
Then Tom's prickly older sister, Cherry, is poisoned at her own engagement party. Tom's left reeling and not knowing who to suspect. Could it be her new fiancé, Gregory, a cathedral canon with an unfortunate manner and a taste for taxidermy? Or someone from her old writers' circle, which she left after a row? Or could the attack be connected to her work as a barrister? Meanwhile, Tom's honorary auntie's left him a gag gift from beyond the grave that could be more significant than anyone knows.
Phil's fighting against the clock to solve the case before somebody ends up dead. And with the poisoner hiding a dark secret, Phil's terrified Tom could have been the target all along.
Review: The first book in the Plumber's Mate Mysteries is Pressure Head (read my review here) and I really loved it, so I was excited to get the sequel to read/review. These books are better read in order as they feature the exact same characters, following plumber Tom and his PI boyfriend, Phil. Each book has a different mystery, so they connect through the relationship, which is still going strong in Relief Valve, though Tom does sometimes feel awkward knowing that Phil was previously married.
In Relief Valve, readers get to know more about Tom's family, especially his older sister, Cherry, who is suddenly getting married. Well, until she's poisoned at her engagement party, and now Phil and Tom are on the hunt for just who could possibly want to hurt Cherry (if it was Cherry they were after). I really liked this mystery and I didn't figure out "who done it" until the end. I won't say it's impossible to figure out, but these are the types of mysteries where I'm happy to go along for the ride. I don't try too hard to unravel the mystery because I'm having a good time following Tom and Phil on their adventures, and also watching the two of them grow closer together!
Relief Valve and Going Overboard- two #mmromance book reviews #ontheblog!
Click To Tweet
Going Overboard by L.A. Witt
Review by Lauren
source: copy from Netgalley; all opinions are my own
Official Summary (add to Goodreads): Second-class petty officers Dalton Taylor and Chris Ingram have been best friends since coxswain's school. Now they're stationed together in the harbor patrol unit of NAS Adams. They're content as friends, but secretly, they both ache for more. Neither makes a move, though; while Dalton is out and proud, Chris is closeted—even from his best friend.
Then another coxswain's negligence nearly drowns Dalton. After a taste of how easily they could lose each other, neither man can keep his feelings hidden anymore, and it turns out love and sex come easy when you're falling for your best friend.
Things aren't just heating up between the friends-turned-lovers, though. The Navy is investigating the accident, and the harbor patrol chief isn't going to let his star coxswain go down for dereliction of duty, even if saving him means throwing Dalton under the bus.
As the threats and gaslighting pile up, Chris and Dalton need each other more than ever—as shipmates, friends, and lovers. But if their chief prevails, the only way they can save their careers is to let each other go.
Review: Going Overboard is the fifth book in the Anchor Point series – and I've read and enjoyed them all (they are companion novels, so you can read them out of order if you want, but previous couples are often mentioned). However, I wouldn't say this was my favorite in the series. I really like friends to lovers romances, but I feel like there wasn't a lot of their relationship explored in this one. It took a bit for them to get together after Dalton almost drowns, which was nice and felt realistic. That life or death moment was just a catalyst for both of them to be honest about their feelings.
There is a lot about the Navy in this one, since the accident is being investigated and Dalton is being told to basically not tell the truth and get back out on the boat, even while suffering from obvious PTSD. Chris hates seeing Dalton suffering, and it was sweet how much Chris was there for Dalton – as much as he could be though. Like I said before, I feel like there was so much about the investigation/Navy that we, as readers, don't get as much of a relationship between Chris and Dalton. Part of it might be because they were friends first, so the relationship happens kind of naturally. That's fine, but I guess I just wanted more on-page time with the two of them. At any rate, I do love this series, and I'd happily read more from the Anchor Point world!
***
I wanted to take this moment to invite you to join my Book Blog Facebook Group. If you, at all, consider yourself a book blogger, then feel free to join. There will be a new thread throughout the week to share posts (they don't always have to be book related) and the idea is to comment on a few whenever you post, but to try and click/view more than you comment, because these are still helpful for blogs! Please feel free to share about this! The more, the merrier.