Relish: My Life in the Kitchen by Lucy Knisley

Review by Lauren

do not own any photos in this post

copy for review, but all opinions are our own

Official Summary: Lucy Knisley loves food. The daughter of a chef and a gourmet, this talented young cartoonist comes by her obsession honestly. In her forthright, thoughtful, and funny memoir, Lucy traces key episodes in her life thus far, framed by what she was eating at the time and lessons learned about food, cooking, and life. Each chapter is bookended with an illustrated recipe—many of them treasured family dishes, and a few of them Lucy's original inventions.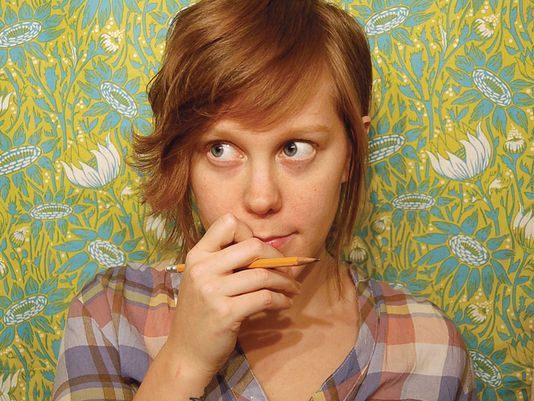 Lucy Knisley

Review: This full-color graphic novel was such a treat (yes, pun intended). Lucy's memoir focuses on events in her life that helped shaped her and her current obsession with food. I think it's safe to say that most of us love our food…but it can be kind of difficult to branch out and try new things. Relish certainly made me want to try a variety of foods and hopefully visit other countries to do so. One chapter in this book is all about Lucy's trip to Mexico and all the food she was able to try. Apart from the food, this trip marked a progression in her and her friend's life, as they were both about 14 and growing up.
I loved how Lucy mixed "episodes" in her life with the food and atmosphere that surrounded her at the time. Lucy loves good food, but she's not what you would consider a "snob" as she's just in love with McDonald's as your average foodie. She knows it's not great for you, but she also understands that it just tastes good and sometimes that's all you need…even if her mother (a wonderful chef) doesn't agree.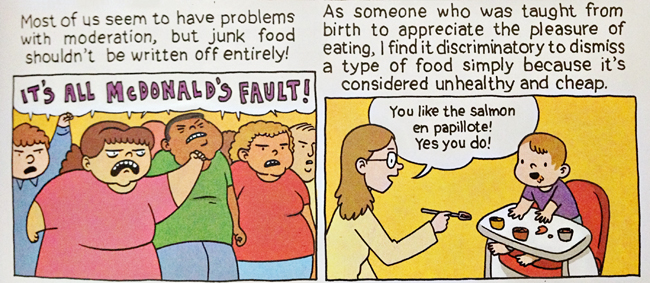 page from the book
Obviously a plus of this book is the recipes at the end of every chapter. They all, somehow, relate to the proceeding chapter as well. In the chapter on Lucy's trip to Mexico, she includes a recipe for Huevos Rancheros. You can see how the page is set up below. I love that there are illustrations throughout the recipes as well. It keeps the whole book flowing as one.
page from the book
I'm trying to read more graphic books and I'm glad to have had the chance to check out Lucy's work (I will certainly read more by her now). I love the color and cartoon drawings. There is also plenty of text along with the illustrations, so you feel like you're reading a full story and getting enough for your money. Always a plus with graphic works! It's also a memoir that many can relate too, even if you haven't been through the same exact things Lucy has in her life. It's still a story about the love of food, family, friends, and self.