Yep, that would be Daniel Radcliffe playing Casey Anthony's Dog. This was seriously one of the funniest SNL sketches I've seen in awhile, and Dan did an amazing job.
To be honest…Dan was great hosting SNL. Not all of the sketches were amazing, but he took what he was given and hopefully did himself proud! I do think they could have utilized him more, but that's not really his fault. Oh well…maybe he'll be back hosting again in the future.
I was also sad to see a mostly missing Andy Samberg. I think he could have really done something great with Dan.
Now, besides Dan's stint as a dog…he was a great as, you guessed it, Harry Potter. This HP is not quite the same guy we used to know and love…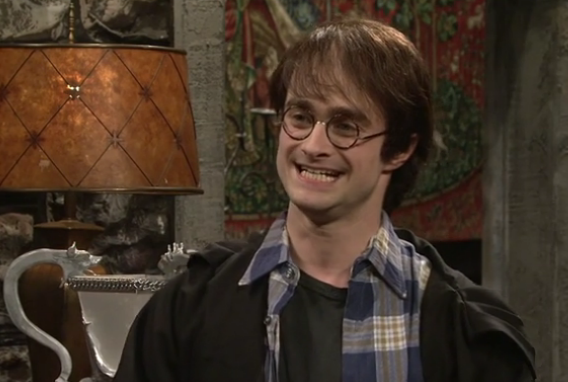 Sadly, it seems like everyone else is doing much better than The Boy Who Lived, but don't tell him that. He doesn't seem to realize! And Bill Hader as Snape was hilarious!!
Harry Potter – Hogwarts Castle 2020. The videos aren't working, so try here.
And now, Daniel Radcliffe as Casey Anthony's dog – Video Here
-Dan doesn't come in until around 6 minutes. This is the entire Weekend Update.
~Lauren