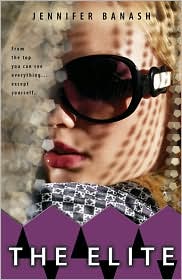 Casey moves into her grandma's apartment in New York and finds herself suddenly thrown into a world of money. Meeting rich and beautiful Madison on her first day in town, along with her sidekicks Sophie and Phoebe, Casey hopes to one day fit in as well as they do…but how can a girl from Normal, Illinois ever compare to the New York elite?
I was a tad worried about reading The Elite, fearing it might be a superficial novel about fashion and name brands…and yes, that is mentioned a lot throughout, but this book is a lot more than that. The four girls and Drew all get their own time in the novel, to fully allow you to get inside their head and lives. Beyond their beautiful exterior, you see that these kids have more problems then just what to wear on a Friday night. They deal with relationships, family issues, feeling inadequate, and more.
I can't wait for In Too Deep, the sequel to The Elite.
Here are my two song picks for this novel: