Freaked by J.T. Dutton
Review by: Lauren
Scotty was sent away to Stillwater, a boarding school for boys, so that his mom could focus more time on her book and speaking about the sex lives of others. Scotty just wants to have a normal family: a mom who cares about him, a dad that isn't changing every year, and even a sibling or two. However, he's stuck with knowing that all the boys at his school fantasize about his mother and might even be able to see her nude if she goes ahead with her photoshoot plans.
Though he might not have a family to reply on, Scotty can always turn to Jerry from The Grateful Dead in times of need. On Parent's Weekend, Scotty finds himself forced into a car by gun point by his roommate Todd and they are off to the Freedom show!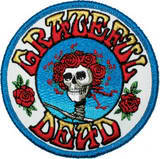 Freaked has a really good premise and I definitely enjoyed the characters. Music plays a main part in this novel, as it gives Scotty an outlet, along with drugs, to truly feel and express his emotions. I felt that the story overall however fell a little short. Most of the novel is Scotty's past memories and thoughts on life, which were interesting, but I was also waiting for more to happen throughout the book.
This is a coming-of-age story that has a lot of life truths.