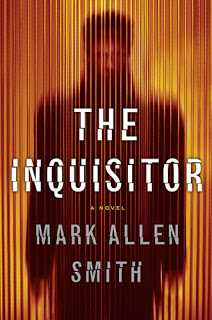 Review by: Lauren
Copy from Publisher, but all opinions are my own
While reading the following review, feel free to play the Law and Order Theme Song, which I just feel fits the tone:
Official Summary:
Geiger has a gift: he knows a lie the instant he hears it. And in his business—called "information retrieval" by its practitioners—that gift is invaluable, because truth is the hottest thing on the market.


Geiger's clients count on him to extract the truth from even the most reluctant subjects. Unlike most of his competitors, Geiger rarely sheds blood, but he does use a variety of techniques—some physical, many psychological—to push his subjects to a point where pain takes a backseat to fear. Because only then will they finally stop lying.
One of Geiger's rules is that he never works with children. So when his partner, former journalist Harry Boddicker, unwittingly brings in a client who demands that Geiger interrogate a twelve-year-old boy, Geiger responds instinctively. He rescues the boy from his captor, removes him to the safety of his New York City loft, and promises to protect him from further harm. But if Geiger and Harry cannot quickly discover why the client is so desperate to learn the boy's secret, they themselves will become the victims of an utterly ruthless adversary.
Review:
The Inquisitor is a difficult book to explain but it's definitely one that I greatly enjoyed reading. It's partly suspenseful and partly mysterious…but it's also a lot about human nature and what makes people do what they do. Essentially, Geiger uses torture to retrieve information from people, but he does it in a way that minimizes the overall danger. So, I suppose, in the world of "information retrieval," Geiger is the good guy. He's also really difficult to figure out. He has a recurring nightmare and therefore goes to a psychiatrist to talk it over every time it happens. He's beginning to go more and more though, and open up in ways he didn't exactly plan on. The doctor is fascinated by Geiger, even though he knows very little about his actual, everyday life, until Geiger shows up later in the book for help.
The truth is, nobody knows much about Geiger. Not even Geiger. His co-worker, Harry, was saved by Geiger one night from a bunch of thugs and ends up working with him…but Harry justifies his life by keeping himself mostly in the dark. He sets up the "meetings" and gets part of the pay, but the rest of it is left up to Geiger. Obviously, in The Inquisitor, their plans begin to change when a boy is brought to Geiger and he takes off with him. Geiger has a strict rule. No kids. Again, that good guy part of Geiger comes out. But taking the kid -named Ezra- isn't such a great idea…because now some pretty bad guys are after Harry and Geiger.
One of the interesting things about this book is that Geiger gets flashbacks before his life in New York (which he can't remember) and it allows us, and him, to slowly see part of what made him into the man he is today. He didn't have a great childhood, and even the present circumstances are pretty brutal, but the book isn't too graphic or extreme. Like I said before, it's a lot about character development too…and not just one big thriller with guns and threats and blood and anger.
You get a bit of the calm blue mixed in with the harsh red.
I really enjoyed that most of the chararcters have two sides to them. Harry might be involved in a bad business, but he uses a lot of his money to take care of his sister (who happens to be with him when the bad guys coming calling). Even Hall, the "leader" of the bad guys so to speak, is stuck in a life that he can't quite control. He just wants the information that Ezra holds, because he is being told to do this, and if Geiger takes Ezra away? Well, Hall must follow after and uses violence if necessary to get back what he needs. There are many things revealed throughout this novel that will make you stop and think about these characters, allowing you to truly wonder about the term "evil."
In the end, we are left with a mini cliff-hanger. It's just enough to make you want to know what will happen next (as a sequel is in the works, I hear!) but nothing too big that should anger readers. It's also an ending that is both happy and sad, and it definitely makes one curious to see how a sequel will be set up.