Mira's Diary- Lost in Paris by Marissa Moss

Review by Lauren

copy from the publisher, but all opinions are my own

Official Summary:
When Mira receives a cryptic postcard from her missing mother, she sets off with her father and brother to find her in Paris. Only Mira doesn't know she's looking in the wrong century.
With an innocent touch to a gargoyle sculpture on the roof of Notre Dame, Mira is whisked into the past. There she learns her mother isn't just avoiding the family, she's in serious trouble. Following her mother's clues, Mira travels through time to help change history and bring her mother home.


Review: One of the things that I found interesting about this book was the author, as it says on the cover, she is the bestselling author of the Amelia series. I never read a ton of those books, as I believe I was a bit too old when they were coming out…but I did check out a couple in the past and I really like them. I like books that are journal format (I had a huge love for them when I was longer too) and I also really enjoyed the little sketches throughout the "notebook." Mira's Diary is essentially a more grown up version of Amelia. Her book is a sketchbook but each chapter is still a day, like a diary, and there are little drawings throughout the book since Mira likes to sketch (though she doesn't think she's very good). This was an aspect I greatly enjoyed in Lost in Paris. It allowed me, as a reader, to get a better idea of just what these characters look like to Mira, as well as the interesting items she comes across in the novel. With a setting like Paris, it's nice to get some pictures to help you along as well!
Two Blue Dancers by Degas
And what a fun setting! I've never been to Paris, but it was fun to see a modern view as well as a look into the past (namely the 1880's and 1890's). I greatly enjoyed the mentions of famous painters and artists from this time period. In fact, Mira's first trip to the past brings her into the home of Edgar Degas, who drew very lovely pieces dealing with ballet. You can actually see Mira's version of one of these on the cover (top left corner). As a big fan of Oscar Wilde, I also enjoyed some mentions of him…though he's not an actual character in the sense that Mira ever gets to meet him. He's simply mentioned by another writer, who plays a key role in this novel, so I won't go into further detail on that.
Going into the book, I didn't realize how much of a historical aspect this story contained. Yes, it deals with time travel, so you would expect some histroy, but it's actual a key element to Mira's story. She is meant to change things but it takes her awhile to realize just what that is, and at the same time, she comes to realize that affecting people's lives for the better doesn't come without sadness or hardship. A large part of what Mira is changing deals with prejudice, particularly towards Jewish people (and Mira is Jewish) so it's difficult for her to reconcile her religion in today's world with the hatred people felt toward it in the past. Not that it doesn't exist now, but for Mira, it was never that close to her world. It's an interesting part of the novel and I like that, for any reader but especially younger ones, you are learning right along with Mira but it's not preachy or boring. Rather, it makes history come alive, and that's never a bad thing.
Make it a Gift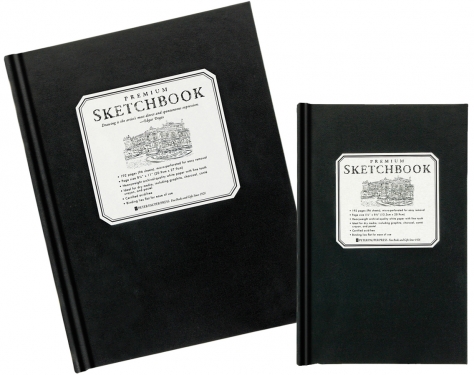 In the novel, the only thing that travels back in time with Mira that belongs to her is her sketchbook, so I figured if you're going to give this book as a gift…adding a sketchbook might be a fun ideas as well. You can get a bigger sketchbook (as you can see from the above photo) but I'd suggest the smaller one since I imagine Mira's isn't that big as she's able to carry it around with her in an easy fashion.
Small Black Premium Sketchbook from Peter Pauper Press

Get it for $7.99

From the site: Here is a high-performing Small Black Premium Sketchbook (5-1/2" by 8-1/2")
that slips easily into your bag or backpack for on-the-go drawing. Its
heavyweight fine-tooth paper is perfect for dry media, including pencil,
charcoal, Conte crayon, and chalk pastel. The pages are micro-perforated for
easy removal with clean edges. Each sketchbook comes with 192 pages/96 sheets.
Sturdy book binding lies flat for ease of use. Archival-quality paper will keep
your artwork pristine for years to come.