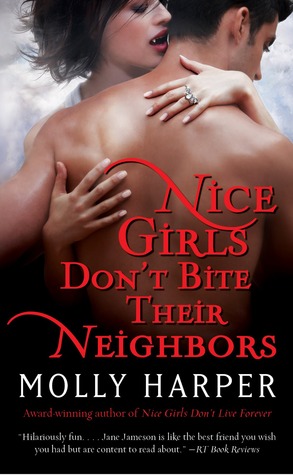 Nice Girls Don't Bite Their Neighbors (Jane Jameson #4) by Molly Harper
Review by: Lauren and Chris
Copy from publisher, all opinions are my own, however
Official Summary: Just as Jane Jameson's unlife seems to be stabilizing, fate sinks its fangs firmly into her butt. Despite her near-phobia of all things marital, her no-frills nighttime nuptials to her sexy boyfriend Gabriel are coming along smoothly. But the road to wedded bliss gets bumpy when a teenage acquaintance is fatally wounded in front of Jane's shop and she turns him to save his life. The Council pronounces Jane responsible for the newborn vamp until he can control his thirst.
Jane's kitchen at River Oaks barely holds enough Faux Type O to satiate the cute teen's appetite and maintain Gabriel's jealous streak at a slow simmer. As if keeping her hyperactive childe from sucking the blood out of the entire neighborhood isn't enough to deal with, the persnickety ghost of Jane's newly deceased Grandma Ruthie has declared a war on the fanged residents of River Oaks. Suddenly,
choosing monogrammed cocktail napkins and a cake that she can't eat seems downright relaxing in comparison.
Tensions inside the house are growing…and outside, a sinister force is aiming a stake straight for the center of Gabriel's heart. Most brides just have to worry about choosing the right dress, but Jane fears that at this rate, she'll never make it down the aisle for the wedding all nice girls dream of…
Review: Though the publishing company did not know this when they asked me to review the fourth and final book in the Jane Jameson series, I had actually reviewed the first three for Romantic Times magazine, so that little quote on the cover for this book that says RT Book Reviews? Yeah, that's me. For whatever reason, I didn't get the last book for the magazine, so I was really excited to check it out for my blog…since I haven't talked about Molly Harper here and I want you all to know how much I just love her books.
Like I said, this is the last book about Jane and company but Molly has a werewolf series out (two books so far) and even an upcoming vampire series that takes place in the same town as Jane, just with different characters (the first book is The Care and Feeding of Stray Vampires) and I, for one, am very excited to check it out.
This last book, Nice Girls Don't Bite Their Neighbors, is full of your typical Jane hijinks though. Someone shoots a poisonous arrow at Gabriel (her fiance) and they are desperate to figure out who it was, a car nearly kills a teenager Jane knows named Jamie (who she then turns into a vampire to keep him alive), and Jane's Grandma Ruthie might be dead but she's taken to haunting Jane's home in order to get her to leave.
For those that don't know this series, you should definitely check it out. It's fun, hilarious, full of adventure, romantic, and did I mention it's hilarious? Jane is a bit snarky and sarcastic but she has a big heart. Gabriel is her fiance who is desperate to keep her safe, but loves Jane the way she is regardless, Jane's mom is a meddlesome lady who somehow knows everything, Jamie is a newly-turned teenage vampire, making Jane a sudden mom, and then you have Jane's friends…
Zeb, Jane's childhood friend, who is married to Jolene (who is a werewolf) and has twins. Then you have Andrea, who is married to Dick Cheney (yep, that's his real name…but don't worry, it's not THAT Dick Cheney). Dick is a vampire and one of Gabriel's oldest friends, even though they haven't always gotten along. Dick is one of my favorite characters in this series and I will greatly miss him. He has all sorts of connections you probably shouldn't ask about, he's funny and innapropriate, and a bit of a ladies' man, but he is willing to do a lot to protect his friends and family…especially in this latest book!
This quote (conversation between Jane and Gabriel) should give you an idea of the type of person Dick is-
"Andrea had a little too much to drink. I ended up pouring her into my car and running back for my purse, only to find that the bartender was getting roughed up."
"By Dick?"
"By some lowlife who thought that being a vampire was a good excuse to shake money out of food-service workers, as opposed to getting a job."
"So, it was Dick," he said as if I was missing his point.
I glared at him. "Would you let me tell the story?"
Just to you know, she is not talking about Dick, but it's still quite a humorous view of the guy!
I'm trying not too give too much away since this is the fourth in a series and I know many of you probably haven't read the first three. I really just want to say that this was another wonderful addition to the series and it concluded well, even though I would love to follow these characters more.
Now, finally, my mom (Chris) has been reading this series along with me so I had her read the final book too before posting this review so I could get a few of her thoughts!
What were your intitial thoughts after reading this book?
That these books are always an enjoyable read and I never want them to end. They're fast, they're funny. You get lost in the book.
Anything you don't like about the book/series?
No, I love them.
Do you have a favorite character?
I like Jane just because she is funny, but I don't really have a favorite. I do like Dick Cheney though. He's funny. He just pops up when you least expect it and he always gives you a little chuckle.
If you had to pick a character from the Jane Jameson series to get their own book, who would it be?
Probably Dick Cheney. I don't know how they could write a book about him, but I think he would be hilarious.
What are your final thoughts about the book, Nice Girls Don't Bite Their Neighbors?
I liked the fact that everybody was happy in the end and they learned to love the lives they were given.