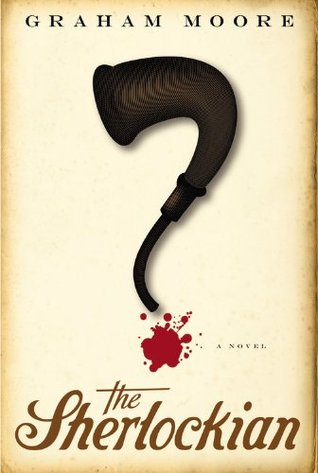 The Sherlockian by Graham Moore

Review by Lauren

copy for review, but all opinions are my own

Official Summary: In December 1893, Sherlock Holmes-adoring Londoners eagerly opened their Strand magazines, anticipating the detective's next adventure, only to find the unthinkable: his creator, Arthur Conan Doyle, had killed their hero off. London spiraled into mourning — crowds sported black armbands in grief — and railed against Conan Doyle as his assassin.
Then in 1901, just as abruptly as Conan Doyle had "murdered" Holmes in "The Final Problem," he resurrected him. Though the writer kept detailed diaries of his days and work, Conan Doyle never explained this sudden change of heart. After his death, one of his journals from the interim period was discovered to be missing, and in the decades since, has never been found.
Or has it?
When literary researcher Harold White is inducted into the preeminent Sherlock Holmes enthusiast society, The Baker Street Irregulars, he never imagines he's about to be thrust onto the hunt for the holy grail of Holmes-ophiles: the missing diary. But when the world's leading Doylean scholar is found murdered in his hotel room, it is Harold – using wisdom and methods gleaned from countless detective stories – who takes up the search, both for the diary and for the killer.
Review: I'll admit it, I need to read all of Conan Doyle's Sherlock Holmes stories. However, I'm fascinated by all the modern retellings of Sherlock like the TV shows Sherlock and Elementary. As for books, I think it's fun to see how today's authors can utilize Holmes or even his creator, Arthur Conan Doyle…and with The Sherlockian, Moore does the latter. This is one book I wish I had read sooner, but I'm finally trying to pick up review copies I've had for awhile and yet never got too. It may have taken me a bit to read this book, but regardless, it was an amazing novel that blends historical truths and literary imaginings in a flawless fashion.
Harold White is a Sherlock Holmes scholar in 2010, and obsessed with anything mysterious or Sherlock Holmes. Therefore, when another scholar is killed, White finds himself pursuing the killer and the lost diary of Conan Doyle that had supposedly been found by the now deceased Sherlockian. Every other chapter features White and his quest for the truth, while the rest of the chapters go back to Arthur Conan Doyle, revealing the secrets that this lost diary holds.
I love when modern books use classic authors as characters, as it's interesting to imagine what these men and women were like while alive. Moore created a fascinating Doyle who wanted to be known for his own genius and not merely as the "companion" of Sherlock Holmes, who the fans would like to imagine is actually real. As for his partner-in-crime, Bram Stoker (author of Dracula), Moore imagines a gruff man who is wise to the darker areas of London, making him a wonderful asset to Doyle on his question to find a real-life murderer.
Going back and forth between 1900 and 2010 kept the pace flowing, as each storyline added its own sense of suspense, mystery, and murder. It was also exciting to learn things in 2010 that you ultimately "experience" in 1900. I do want to note that there are things mentioned about Sherlock Holmes stories throughout the book so if you're that worried about spoilers, I'd read Holmes' original tales first. As for me, I didn't mind the details as most stories weren't spoiled and besides, The Sherlockian is definitely worth reading!