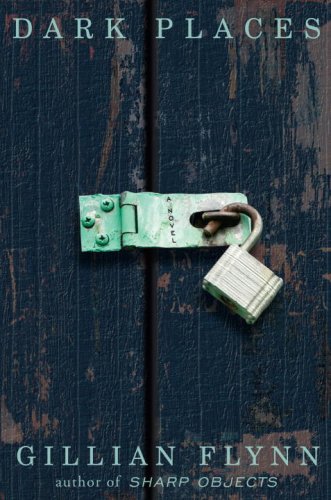 Dark Places by Gillian Flynn
Review by: Lauren
Format: Hardcover, 368 pages
On Sale: May 5, 2009 OUT NOW!
Price: $24.00
My Song Pick for the Novel: The Night the Lights Went Out in Georgia by Reba McEntire
Watch/Hear the Song: http://www.youtube.com/watch?v=WMcBAeAKMk0
Why Did I Pick It? Well, the song is about a murder in a southern town (same as Dark Places) and it involves bad justice and a brother/sister relationship (same as Dark Places). Beyond that, the song isn't really like the book…but it has the same feel, so check it out and let me know what you think of the song!!!

Reason for Reading: I actually wrote in and asked if I could help promote Dark Places a few months back and I was grateful to recieve a review copy. The reason I wrote is because I'd read Gillian's first novel Sharp Objects and thought it was an amazing, intense mystery…and Dark Places sounded the same. Now read on for my review!
Summary: I have a meanness inside me, real as an organ.
Libby Day was seven when her mother and two sisters were murdered in "The Satan Sacrifice of Kinnakee, Kansas." As her family lay dying, little Libby fled their tiny farmhouse into the freezing January snow. She lost some fingers and toes, but she survived–and famously testified that her fifteen-year-old brother, Ben, was the killer. Twenty-five years later, Ben sits in prison, and troubled Libby lives off the dregs of a trust created by well-wishers who've long forgotten her.

The Kill Club is a macabre secret society obsessed with notorious crimes. When they locate Libby and pump her for details–proof they hope may free Ben–Libby hatches a plan to profit off her tragic history. For a fee, she'll reconnect with the players from that night and report her findings to the club . . . and maybe she'll admit her testimony wasn't so solid after all.As Libby's search takes her from shabby Missouri strip clubs to abandoned Oklahoma tourist towns, the narrative flashes back to January 2, 1985.
The events of that day are relayed through the eyes of Libby's doomed family members–including Ben, a loner whose rage over his shiftless father and their failing farm have driven him into a disturbing friendship with the new girl in town. Piece by piece, the unimaginable truth emerges, and Libby finds herself right back where she started–on the run from a killer.

My Review: Libby is one of those characters that people might find hard to like, but I honestly did sympathize with her and her situation. True, she'd lived off other people's money growing up and was just now realizing she was running out and had no way to provide for herself…but throughout the novel, she starts to change and I think most people will find some room in their heart for a Libby, a girl that lost her whole family in one night.
Dark Places was just as good as Flynn's first novel Sharp Objects, making me a new, complete fan of her writing and now I'm waiting as patiently as I can for her next novel.
This novel is one big mystery from beginning to end and you'll find yourself placing blame on more than one person. Though it sounds like a gruesome novel, it's not that bad, though it is an adult novel and should be viewed as such.
The book is told mostly through Libby's point of view in present time, but every other chapter goes back in time. First you'll see the third person point of view of Patty, Libby's mom, leading up to the night she died and then you'll have Ben's third person point of view leading up to the night he was blamed for killing his family.
Dark Places is a dark novel, as stated in the title, but it makes you think about justice, truth, write and wrong, and whether or not you can be fully guilty or innocent of something. It's just as intense as her previous title, but the book-though thick in size-is a fast read that is sure to keep you reading.
If this novel sounds at all interesting to you, I recommend picking up a copy and checking it out. It's a great choice for a book club as there is much to talk about and analyze throughout.
What do you all think? Does it sound good? Have you read it, and if so, what did you think? Have you read Sharp Objects? What about the song I picked, any thoughts?
Lots to answer, so leave your thoughts!!!