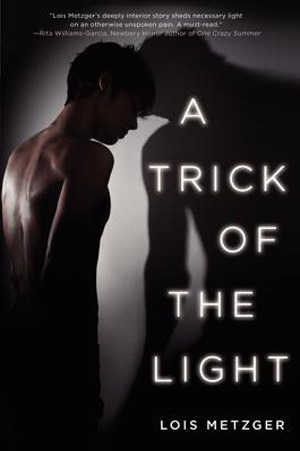 I reviewed A Trick of the Light by Lois Metzger last June, and I'm happy to announce that it was on the ALA's Best Fiction for Young Adults and Bank Street College Best Children's Book of the Year lists. Now, you can order your copy of the paperback, which is officially released on September 23rd!
The new edition will also include a section in the back titled "10 Things You Probably Didn't Know About Eating Disorders." Many people think of eating disorders as a women's disease, but it's not. Many boys (and men) suffer from these disorders and A Trick of the Light is a great book that reflects this.
To help renew enthusiasm for the paperback release, I wanted to re-post my review below for those that haven't already read it! You can visit the old link to also see an interview I did with Lois about the novel.
Official Summary: Mike
Welles had everything under control. But that was before. Now things
are rough at home, and they're getting confusing at school. He's losing
his sense of direction, and he feels like he's a mess.
Then
there's a voice in his head. A friend, who's trying to help him get
control again. More than that—the voice can guide him to become faster
and stronger than he was before, to rid his life of everything that's
holding him back. To figure out who he is again. If only Mike will
listen.
Review: I was
fascinated by the summary for A Trick of the Light because you don't get
many novels (for any age level) that touch on boys with eating
disorders. Most people tend to focus on girls, as they are the most
affected. That doesn't mean boys are exempt though and I applaud Metzger
for realistically portraying anorexia in teen Mike Welles.
Something I loved about the novel was the point of view. The eating
disorder has a voice and they are the one who tells the story. It's not a
stretch to think of anorexia or bulimia having a voice. It's all the
negative thoughts you have about yourself and your body. This voice
tells you to eat less, puke up what you did eat, and keep working out
until your body is perfect. Of course, by that point, you're so sick,
it's hard to reach a healthy weight and viewpoint again.
In A Trick of the Light, Mike is dealing with parents who can't seem to
keep their own lives together. While they are too busy with their
troubles to notice him, he makes a friend that pushes his own already
declining behavior to the edge. He now has a guide to help him eat less
and keep it hidden, as well as the voice in his head that gives him
non-stop motivation to do what needs to be done.
It's a scary thought to imagine having a voice in your head that is
constantly putting you down, or raising you up with unhealthy goals of
being perfect. Reading the book in the voices' point of view gives you a
more personal account of what this eating disorder is doing to Mike. It
was definitely a smart move on Metzger's part to allow this disease to
take the reigns in the story, just as it does on a daily basis for those
personally battling an eating disorder.