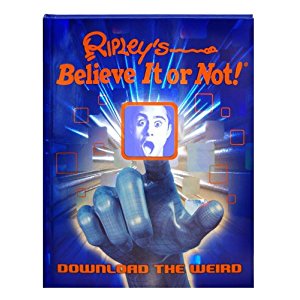 Ripley's Believe It or Not: Download the Weird

Review by Lauren

copy sent for review, but all opinions are my own

Review: I think everyone knows what Ripley's is so I'm not going to take too much time to explain this book. Basically, it has various sections that include photos, facts, and stories about all sorts of crazy and interesting things! Some of these include World, Body, Animals, Food, and Feats. I try to avoid the animal section because it tends to creep or gross me out the most…but overall, I like these books a lot! I learn some cool facts and feel a bit smarter after browsing this book!
This particular edition, Download the Weird, has a Digital section (I don't believe any of the other Ripley books have this) and it included all sorts of cool things. The first page includes some information all about the first virtual retail store in South Korea. How crazy is that?!
There is even a list of Wacky Websites. I do wish they had included the URL for these, but I guess if we googled them, that would work! Some of the ones that seem interesting, though, are one where you can unroll toilet paper without having to roll it back up again (yeah, a site for this… I guess it could be a nice stress reliever!) and even a site where you post pictures of your Hitler-looking cat (I have heard of this one before!)
Another section I really like is Popular Culture. There is a section all about someone who replicated the movie UP by attaching balloons to a house (and it actually flew!). I love that movie, so it was cool to hear about this. The things people will try!
Finally, my other favorite section is Art. I can't believe how creative people can be! It's really awesome to read about some of these things…and I'm always wanting to go look up so much after reading these sections in the Ripley's books. One example is an artist, Natalie Irish, that creates portraits of famous people like Kurt Cobain and Jimi Hendrix…using her lips! Yeah, you read that right. She puts on various lipstick and kisses the canvas to create these amazing portraits!
Irish's lipstick portrait of Marilyn Monroe

-I do not own image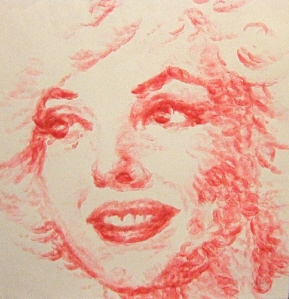 Of course, there is some art that kind of freaks me out…like the Vomit Artist. Essentially, she vomits the "paint." I'll just leave it at that. If you're curious, google Millie Brown and/or Vomit Artist.
And now, I leave you with one of the most awesome things I learned about in this book (Popular Culture section). Six-month-old baby Arthur Hammond and his mom Emily (they are from Oxford, England) recreate famous scenes from movies like The Blair Witch Project and American Beauty. Isn't this too fun?! His blog is here but there hasn't been a new photo since May. It looks like there are gaps inbetween the posts, though, so I'm sure more will be up in the near future!
Arthur for The Blair Witch Project (real movie still below)-

do not own images
Overall…fun book! It would make a perfect gift for that hard to buy person!