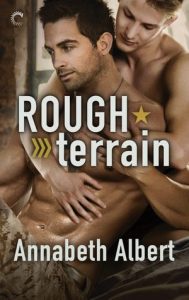 Rough Terrain by Annabeth Albert
Review by Lauren
source: copy from Netgalley; all opinions are my own
Official Summary (add to Goodreads): Navy SEAL Renzo Bianchi has a soft spot for Canaan Finley, and not only because the man makes a mean smoothie. He's the first guy to get Renzo's motor revving in a long time. But when he agrees to Canaan's insane charade—one all-access fake boyfriend, coming right up—he never expects more than a fling.
Creating a hot Italian SEAL boyfriend to save face seemed like a good idea…until his friends called Canaan's bluff. Now he's setting off into the woods with the very man who inspired his deception, and Canaan is not the outdoorsy type. The sparks are already flying when a flash flood separates them from their group, leaving Renzo and Canaan very much trapped…very much alone in the wilderness.
Working together to come up with a plan for survival is sexier than either of them expects. But back in the real world, being a couple is bringing its own set of hazards…
Review: This is the 7th book in the Out of Uniform series, and the last.  I've really enjoyed all of these books, though of course some more than others. However, with the series now over, at least I can say that we've focused on all the main players throughout. The last one who needed a love story was Navy SEAL Renzo. He's often referred to as Rooster by his Navy brothers, but he'd much rather go by his real name, and Canaan is happy to oblige.
I really felt for Renzo. He seems like someone who is confident all the time and has it all together, but he had insecurities too and they were things he had to work through in the book if he wanted to make a real go of it with Canaan. And yes, I really liked Canaan too! I think him and Renzo made a good couple.
Final book in the Out of Uniform series: book review #ontheblog #mmromance
Click To Tweet
Since this is the final book, I just have to say that I think you should start at the beginning if you're curious about the Out of Uniform series. Each book focuses on a different couple, though previous characters show up in subsequent books. Rough Terrain wasn't my favorite in the whole series, but I still really enjoyed it.