Alicia here, with an excerpt reveal for Set the Pace. I really enjoyed Kim Karr's Connections series, so I'm looking forward to reading this new book. Enjoy!


———————————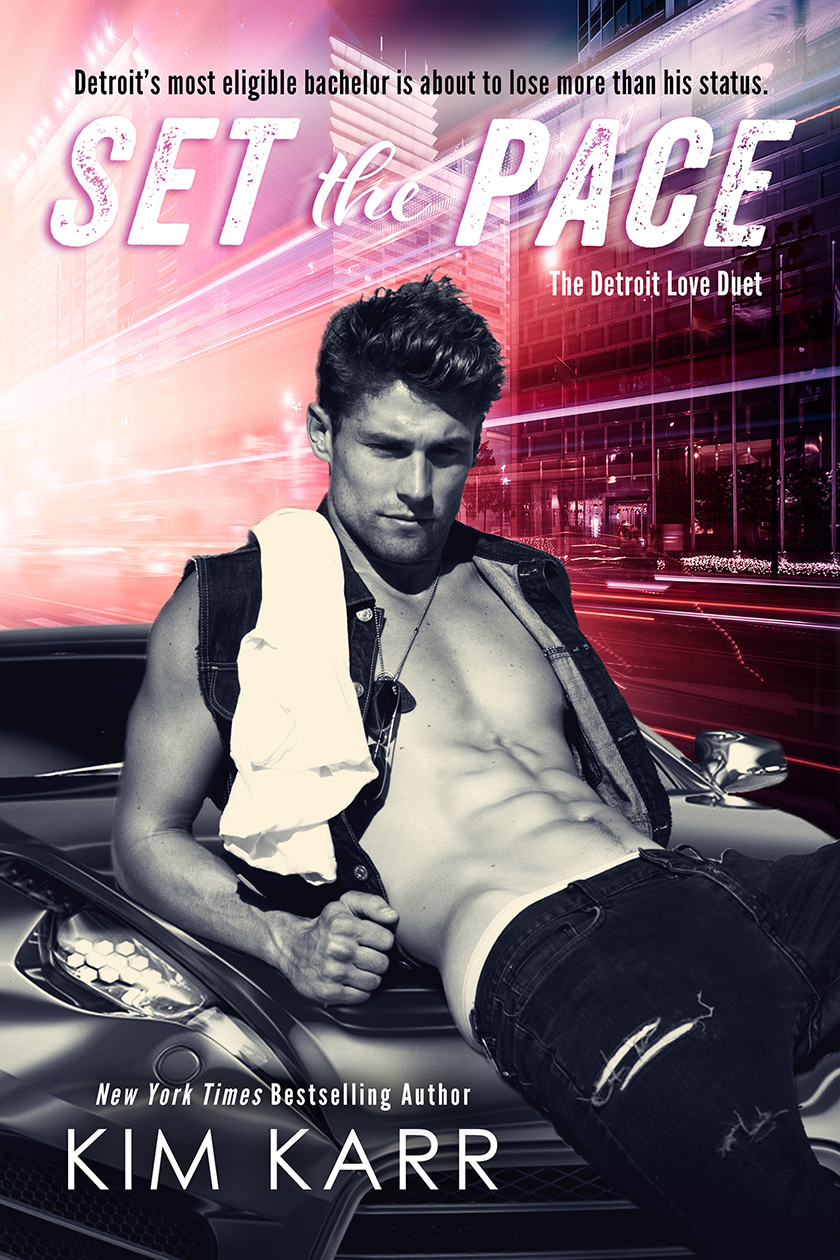 Set the Pace (The Detroit Love Duet #1) by Kim Karr
Genre: Contemporary Romance
Release: February 21, 2016
Every city needs a hero, but Detroit's white knight just might be a villain.
A rough childhood branded Jasper Storm trouble. A bad boy. Not worth a damn. His love of cars was the only thing that could battle his delinquency. With the need for speed in his blood, he overcame his wayward ways. Mostly. Now the broken city of Detroit hails him their shining star. And the man behind a new cutting-edge automobile is ready to turn this bankrupt town around.
Charlotte Lane was the tomboy who lived next door. She was his best friend. He was her protector. Then tragedy struck and she disappeared, forever—or so he thought.
Everything Jasper does in life is fast. He talks fast, f*cks fast, and drives fast. But when one reckless turn brings him face-to-face with the childhood he has tried very hard to forget, he finds himself on the edge of wondering if he shouldn't slow down.
Time hasn't erased who they are though. Jasper has many reasons to hate Charlotte and keep his distance, which is easier said than done. Soon she's infiltrating his every thought and he can't stay away. Back in town with an agenda of her own, she should push him aside. Make him turn around. Walk away herself. Yet she can't.
With the past lurking between them, they proceed with caution. That is until one sex-filled night leads to murder, and things are forced to change. Now that Detroit's biggest ally has suddenly become suspect number one, will Charlotte—the girl Jasper once kept safe—be the one to save him?
---
Control
is an absolute necessity when driving fast on the road, and there is no other
car that applies force to the pavement as directly as the Storm. Whether
turning the wheel, accelerating the gas, or stepping on the brake, I am always
in contact with the road, and therefore I always have control.
Too bad
I can't say the same for my life, which right now seems to be spinning out of
control.
Driving
through the streets of the old Cass Corridor, I manage to suppress the bad
memories of my childhood from surfacing. Sure, the area's history is a sad
cocktail of drugs, prostitution, and crippling poverty. And even though this
section of midtown is a shadow of its former self, I can still see the neglect in
the thoughtless demolition. However, as I come to a stop in front of
Charlotte's building, I can also spot change and hope for the future.
Then
again, her building isn't the grimy brick front with a dark lobby lit only by
streaks of light through cracked windowpanes that I grew up in. Her stairs
aren't rotting, her hallway isn't a putrid shade of green, the carpet isn't
worn, nor does it smell like piss, and there isn't the yelling going on that
makes me want to cover my ears.
This isn't the same place where I
grew up.
Slowly,
I glance around. She's right—her building isn't that bad. As I take the stairs
and look out the window, I think I might have been a bit harder on her than I
needed to be.
Walking
down the hallway, I can't suppress the smile on my face when I see that her
bike is just outside the door. This means she's planning on coming with me.
After my confession last night, I wasn't exactly sure she would.
Way too
soon, I'm standing in front of her apartment.
Not
quite ready for this, I give myself the pep talk. This is not a date.
You're looking for answers.
You don't need to be thinking of
her in any other way than as someone you used to know. You look only at her
face. You definitely don't watch the way she moves. You don't need to feel
guilty because you f*cked her co-worker. You don't even remember much about it
anyway. And for fuck's sake, you don't need to be thinking about how good this
girl would feel wrapped around you.
With
that out of the way, I'm feeling clear-headed and focused. Before that changes,
I hurry up and knock.
No one
answers.
I knock
again.
Maybe
she changed her mind and she isn't going to come with me after all.
Feeling
impatient, I knock one more time.
"Just a
minute," I hear from inside.
The
sound of her voice makes me feel desperate to see her. That's not a good thing. I should leave. I really should. I
seriously consider it for about a hot minute. Nothing but bad can come out of
this. But my feet seem cemented in place and when I hear the click-clack of a
lock and it begins to turn, it's too late.
Slowly
the door opens and she comes into view. As soon as she does, the wind is
knocked right out of my lungs. She looks a little disheveled but all the more
beautiful because of it. Feeling like I've been zapped, I'm overwhelmed by the
energy between us and it holds me in place. Everything about her is like it
used to be—just the sexier, hotter, grown-up version. Her hair is pulled back,
but even so, it still looks wild and untamed. She always said her hair was a
bother and she just wanted it out of the way. Because I used to really like her
hair, it always made me laugh.
I still
like her hair, and the fact that she pulled it back because it might be a bother
makes me want to laugh now. That, along with the toothpaste on her lip, is just
too much. I try to hold back my laughter but fail miserably.
"What?"
she asks with mild curiosity.
"Nothing,"
I say with a shake of my head. "It's just I wasn't sure you'd come with me
today."
She
looks at me as if considering her words, and I use this time to study her
further. She's not wearing any makeup and everything about her face screams how
gorgeous she is. For no reason at all, my chest tightens.
It doesn't mean anything.
So what
if it took less than 1.4 seconds for that hurricane within me to start batting
around.
It means nothing.
But
then that fucking myriad of conflicting emotions starts to mess with my mind
and yeah, I realize, it means something. Just like that, it's as if my pep talk
never took place. Still, I can handle this. Find out what she knows. Drop her
off. And say goodbye—forever.
Preorder Links:
Amazon: not available yet.
---
Reader * Writer * Coffeelover * Romantic
Kim Karr is a New York Times and USA Today bestselling author. She is a daydreamer. So much so that if daydreaming could be a hobby it would be her favorite. It's how her stories are born and how they take root. An imagination that runs wild is something to be thankful for, and she is very thankful.

She grew up in New York and now lives in Florida with her husband and four kids. She's always had a love for reading books and writing. Being an English major in college, she wanted to teach at the college level but that was not to be. She went on to receive an MBA and became a project manager until quitting to raise her family. Kim currently works part-time with her husband and with the rest of her time embraces one of her biggest passions–writing.
Kim wears a lot of hats! Writer, book-lover, wife, soccer-mom, taxi driver, and the all around go-to person of her family. However, she always finds time to read.
She likes to believe in soulmates, kindred spirits, true friends, and Happily-Ever-Afters. She loves to drink champagne, listen to music, and hopes to always stay young at heart.