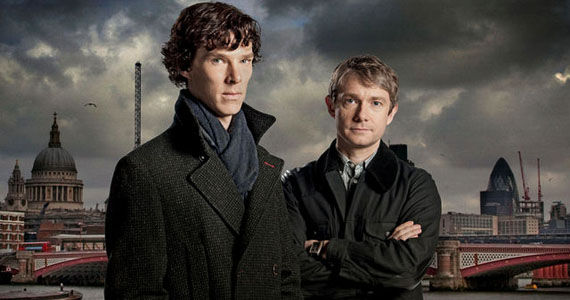 The third season of Sherlock premiered this past Sunday with the episode The Empty Hearse. I don't want to say too much about the show since I know not everyone has made it through the first two seasons. Maybe you've heard spoilers elsewhere, but I'd like to avoid the large ones.
Basically, I wanted to share some brief thoughts about the first episode of this new season.
1. I'm sad there are only three episodes per season, of course. While each one is about the length of a shorter film, it just never seems enough!
2. Martin Freeman and Benedict Cumberbatch have wonderful chemistry as John and Sherlock. It was nice to see them back together again.
3. The actual episode was quite good. I still wish we had some definite answers, but overall, that's Sherlock and it makes sense. There are a mix of things happening throughout The Empty Hearse, but the biggest storyline is kind of a set up for the other two episodes, I believe. We will be getting a new villain and I'm very curious. After all, Moriarty was fantastic!
4. John is engaged to Mary, per the books, and I have to say that Amanda Abbington does a great job. She's with Martin Freeman in real life, which lends to a nice chemistry between Mary and John. However, she's also a feminine breath of fresh air on the show!
5. You get a bit of Sherlock's parents in this episode! Too funny, especially when you know that they are played by Benedict Cumberbatch's real life mum and dad. I believe they will be in the second episode too, so that should be interesting! I want John to properly meet them.
6. I loved how they brought the fandom of Sherlock into the show. You see wild theories about Sherlock and the overall popularity surrounding this sociopath.
Overall, a great start to a new season. I'm curious to get more into the mysteries that the show does so well with, but I loved how character focused The Empty Hearse was too!