The True Confessions of a DUFF
I read The Duff by Kody Keplinger around the time it came out, and while I've been meaning to read it again, I haven't had the chance. Therefore, I will say right now that this post is not going to be a compare and contrast with the book and movie. Yes, I've read the book and I really loved it. But yes, I also saw the movie and really loved that too. I'm one of those people that don't care too much about changes between a book and a movie because they are two separate things. Not everything from a book can or should be translated the same way on screen. With a book like The Duff, I knew people were wary about the movie because it seemed too different, and not for any good reason. One reason that pops up is that Mae Whitman is playing Bianca, and in no way is Mae what someone would call "bigger" or "plus-sized." I think that's alright though, especially after seeing the movie, because Mae isn't stick-thin and not only plus-size boys and girls have issues with their body or have people make fun of them for something physically "wrong" with them.
At any rate, back to the title and how this relates to me. I had never heard the term DUFF before until I read the novel by Kody, but it's a phrase people do use. If you don't know yet, DUFF means Designated Ugly Fat Friend. I have often joked about being the least pretty of my friends or needing to find friends that are skinnier than I am. I say this was a joke because I would never ditch my friends for being skinnier and/or prettier than I am, at least in my eyes, but it was something I saw and it's not a great feeling for someone who doesn't have that much self-esteem to begin with. One of the reasons I used to joke about needing to hang out less with my pretty friends is because in high school and college, I would like certain guys that would ultimately end up liking a friend of mine, someone I deemed prettier. Looks aren't everything though, and it's something to always remember.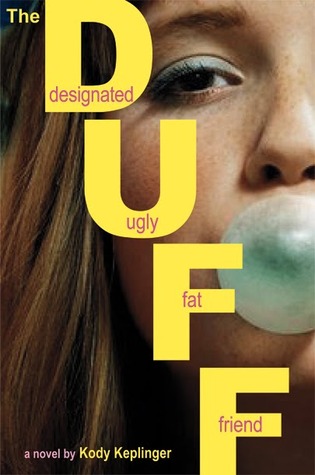 I loved that Bianca was known as plus-sized in the book because you don't always see that. So many YA books talk about girls that are smaller or more average. You even get those so-called plain looking girls that somehow have two guys fighting over them. Does this happen in real life? I'm sure it has, but it's not as realistic as YA likes to make you think. So yes, I understand people being upset that a more plus-sized actress wasn't portraying Bianca in the film. It looks like another example of Hollywood taking attractive actresses and pretending they are "ugly" until they get a full makeover. This isn't quite how the movie goes, however. Sure, Bianca in the movie learns to dress a bit more feminine but she doesn't change who she is or what she likes, and I appreciated that. Plus, like I said above, I do think the overall message is that you don't have to actually be a DUFF to think that you are a DUFF. The movie points out that someone will always be prettier or skinnier, so you have to be okay with what you have and who you are to truly be happy.
As for me, I won't say I'm 100% happy with the way I look, but I think it's a work in progress. Most people have something they don't like about themselves physically, whether they think they are ugly, fat, or something else. The DUFF movie might be different from the book, but they keep the message that being yourself is the most important thing, and in the end, that's the main thing.