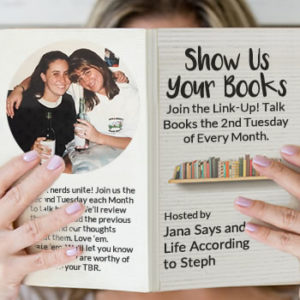 It's time for another Show Us Your Books, where you share reviews of the latest books you've read. Since I do book reviews on my blog on a regular basis, I try and focus on those books I have yet to review, or I don't necessarily have a ton to talk about. Link up with Jana and Steph if you want to join!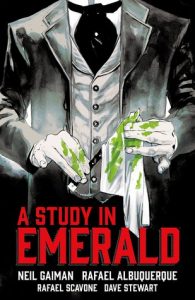 A Study in Emerald by Neil Gaiman
Official Summary (add to Goodreads): This supernatural mystery set in the world of Sherlock Holmes and Lovecraft's Cthulhu Mythos features a brilliant detective and his partner as they try to solve a horrific murder.
I don't know much about Lovecraft, but I'm a big fan of Sherlock Holmes so I was really excited to finally check out this graphic novel by Neil Gaiman. It's a really quick read, but I found it fascinating. Since Lovecraft has been added to this story, it's definitely not based in what we know as reality. This just adds to the intrigue, as Gaiman twists this story to suit his own imagination. There is a bit of a twist – or reveal, if you will – near the end of the book that I just ADORED! I'd be curious to see what others think when they read it.
Borrowed from the library. 
The Foxhole Court by Nora Sakavic
Official Summary (add to Goodreads): Neil Josten is the newest addition to the Palmetto State University Exy team. He's short, he's fast, he's got a ton of potential—and he's the runaway son of the murderous crime lord known as The Butcher.
Signing a contract with the PSU Foxes is the last thing a guy like Neil should do. The team is high profile and he doesn't need sports crews broadcasting pictures of his face around the nation. His lies will hold up only so long under this kind of scrutiny and the truth will get him killed.
But Neil's not the only one with secrets on the team. One of Neil's new teammates is a friend from his old life, and Neil can't walk away from him a second time. Neil has survived the last eight years by running. Maybe he's finally found someone and something worth fighting for.
The Foxhole Court is actually the first book in a trilogy, and I'd heard really good things about it. I finally made time to read it earlier this year, and while I liked it, it wasn't my most favorite. I'm still curious enough about the story to want to continue though. However, I felt the book was a bit slow moving and there is a lot of detail about the sport that Neil plays, which is called Exy. It's not a real sport, so I found it kind of hard to follow or understand. Hopefully the slowness will go away in the second book, but we shall see!
Personal copy.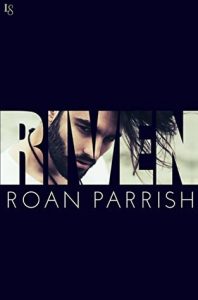 Riven by Roan Parrish
Official Summary (add to Goodreads): Theo Decker might be the lead singer of Riven, but he hates being a rock star. The paparazzi, the endless tours, being recognized everywhere he goes—it all makes him squirm. The only thing he doesn't hate is the music. Feeling an audience's energy as they lose themselves in Riven's music is a rush unlike anything else . . . until he meets Caleb Blake Whitman. Caleb is rough and damaged, yet his fingers on his guitar are pure poetry. And his hands on Theo? They're all he can think about. But Caleb's no groupie—and one night with him won't be enough.
Just when Caleb is accepting his new life as a loner, Theo Decker slinks into it and turns his world upside-down. Theo's sexy and brilliant and addictively vulnerable, and all Caleb wants is another hit. And another. That's how he knows Theo's trouble. Caleb can't even handle performing these days. How the hell is he going to survive an affair with a tabloid superstar? But after Caleb sees the man behind the rock star, he begins to wonder if Theo might be his chance at a future he thought he'd lost forever.
Riven is a book that I'd wanted to read for awhile now. It's an m/m romance about Theo Decker, lead singer of Riven, and Caleb Blake Whitman, a musician who has hidden himself away after leaving rehab and realizing that being around the music scene might do more harm than good. I thought the romance was done really well. I loved Theo and Caleb together, and I thought they were both able to help each other find their true happy. At the same time, it felt realistic. I wouldn't say the book is angsty, but it does have some drama, but that's to be expected. As for the music aspects, I loved it! I'm always a fan of musician/music-focused books. I really wish I could hear Theo and Caleb's music for real! A companion novel, Rend, is out now, and I hope to read it soon.
Borrowed from e-library.
One of Us Is Lying by Karen M. McManus
Official Summary (add to Goodreads): The Breakfast Club meets Pretty Little Liars, One of Us Is Lying is the story of what happens when five strangers walk into detention and only four walk out alive. Everyone is a suspect, and everyone has something to hide. 
I feel a bit like a broken record, but One of Us Is Lying is a book I wanted to read before it even came out. It took my book club assigning this for our February meeting for me to finally get around to it though! I really enjoyed the book, and I liked getting to know the four students who were all suspects of killing Simon. That might sound strange, but it's easy to see why any of them would want Simon to go away. He ran an app that blasted people's secrets, and the main characters in this book all have secrets.
They are Bronwyn (the brain), Nate (the criminal), Cooper (the athlete), and Addy (the beauty). Yes, it really is like the Breakfast Club in different ways. They are all more than their "labels" though and I liked peeling back those layers. I had an idea of what truly happened – and most of it was right – but it wasn't something I knew right away. In fact, I thought of it more as the truth was soon to be released, so I wouldn't say it's obvious, but even if it is to you, I think the non-mystery aspects of the book are just as good!
***
A Study in Emerald, One of Us Is Lying, Riven, + The Foxhole Court: mini #bookreviews #ontheblog!! #bookbloggers
Click To Tweet
Do any of these stand out to you? Have you already read any of them (what did you think)? I've actually read 14 books so far this year but I've already reviewed some and I hope to review the others in the future, which is why you're only getting reviews for 4 out of those 14!