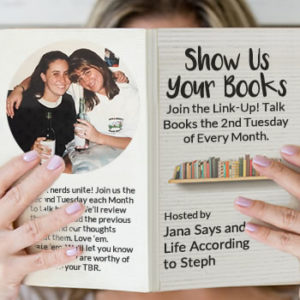 I can't believe it's already time for another Show Us Your Books post. As always, I'm linking up with the fab Jana and Steph – come join us! Today, I'm sharing a mix of graphic novels that I read at the end of 2017 to help build up my overall read numbers- I got to 192 books read last year, so I'm stoked!
Before we get to my reviews, I want to share that my Leave a Mark Auctions are back – these are annotated OR autographed books that you can bid on to help a good cause. This time around, all the money goes to Baby Elliott- his mom is a Twitter book community member and her son is dealing with multiple heart surgeries and they could really use the help for his medical bills. If you want to learn more, or bid on the books, please visit the site. The first book up for auction is Eragon by Christopher Paolini (it's autographed). Thanks everyone!
On to the reviews!
The Prince and the Dressmaker by Jen Wang
Review by Lauren
source: copy from publisher; all opinions are my own
Official Summary (add on Goodreads): Paris, at the dawn of the modern age:
Prince Sebastian is looking for a bride―or rather, his parents are looking for one for him. Sebastian is too busy hiding his secret life from everyone. At night he puts on daring dresses and takes Paris by storm as the fabulous Lady Crystallia―the hottest fashion icon in the world capital of fashion!
Sebastian's secret weapon (and best friend) is the brilliant dressmaker Frances―one of only two people who know the truth: sometimes this boy wears dresses. But Frances dreams of greatness, and being someone's secret weapon means being a secret. Forever. How long can Frances defer her dreams to protect a friend?
Review: I loved this YA graphic novel so, so much. Sebastian isn't gay and he's not transgender – he just likes dressing up like a girl sometimes. With the help of his new friend and extraordinary seamstress, Frances, he's able to wear elegant gowns and go out under a female persona. Of course, nobody can know this woman is actually Prince Sebastian which means that people can't really know that France is the the wonderful designer. It proves a difficult moment for their relationship, but it was realistic and done well. Nobody should have to hide – neither Sebastian or Frances. I highly recommend!
The Amazing Crafty Cat by Charise Mericle Harper
Review by Lauren
source: copy from publisher; all opinions are my own
Official Summary (add to Goodreads): Sometimes school can be scary and even embarrassing, but not today. Today is Birdie's birthday, and everything will be perfect! Birdie's panda-riffic cupcakes are beautiful, and there's one for everyone. She will be the star of the class. But then . . . disaster! A trip and fall on the way to school means no more cupcakes! Who can save the day? Who can make the class smile again? This is a job for Birdie's alter ego . . . the Amazing Crafty Cat!
After a quick transformation, Birdie is ready. She's not afraid of sticky paws or paper cuts. She's not afraid of anything, even Anya, the class bully. It's time to get crafting!
Review: While for a younger audience, I did find the story to be a bit too simplistic. Regardless, it's a cute read and I could see young kids just getting into comics/graphic novels enjoying it. The aspect that I really liked about The Amazing Craft Cat is that the various crafts talked about in the book are given their own section at the end of the book; with step by step drawings and decorations so you can make your own. It's a fun touch and keeps the book alive past the final page. This is also a good book in terms of friendship and being around people who understand you and like you as you are.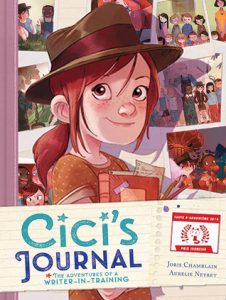 Cici's Journal by Joris Chamblain, Aurélie Neyret
Review by Lauren
source: copy from publisher; all opinions are my own
Official Summary (add to Goodreads): Cici dreams of being a novelist. Her favorite subject: people, especially adults. She's been watching them and taking notes. Everybody has one special secret, Cici figures, and if you want to write about people, you need to understand what's hiding inside them. But now she's discovered something truly strange: an old man who disappears into the forest every Sunday with huge pots of paint in all sorts of colors. What is he up to? Why does he look so sad when he comes back?
In a graphic novel interwoven with journal notes, scrapbook pieces, and doodles, Cici assembles clues about the odd and wonderful people she's uncovered, even as she struggles to understand the mundane: her family and friends.
Review: I loved this book so much and I would happily read more of Cici's adventures. While this is a graphic novel, it's not your typical one because in between those moments are Cici's journal so you get a more standard writing approach along with illustrations. It's a still unique format and it works well because we get inside Cici's head a bit more. While the book does deal with young friendships and coming into yourself, it felt like something that older readers would really like too as you get a bit of insight into Cici's mom and their relationship, as well as an older woman, an author, who Cici often goes to in her times of need, especially when she's investigating. Cici's Journal is actually two stories in one – both clearly marked – and each story focuses on a specific case that Cici is trying to crack. Another reason I feel this would be great for older readers too is because both mysteries surround an older man (first story) and older woman (second story). Plus, the mysteries are often related to growing older and looking back on the past. Again, I would definitely suggest people read this one!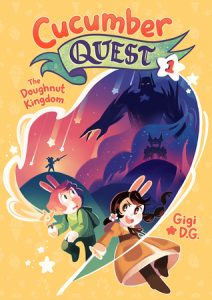 Cucumber Quest: The Doughnut Kingdom by Gigi D.G.
Review by Lauren
source: copy from publisher; all opinions are my own
Official Summary (add to Goodreads): What happens when an evil queen gets her hands on an ancient force of destruction?
World domination, obviously.
The seven kingdoms of Dreamside need a legendary hero. Instead, they'll have to settle for Cucumber, a nerdy magician who just wants to go to school. As destiny would have it, he and his way more heroic sister, Almond, must now seek the Dream Sword, the only weapon powerful enough to defeat Queen Cordelia's Nightmare Knight.
Can these bunny siblings really save the world in its darkest hour?

Sure, why not?
Review: I didn't realize Cucumber Quest was going to be so funny, but it was! It's definitely aimed at a middle school level, but it's fun and enjoyable so I think older readers would get a kick out of it too. I know I'll happily read more about Cucumber and his way more heroic little sister, Almond. These two bunnies live in The Doughnut Kingdom, which is part of Dreamside (don't worry – maps are included in the book!) and Cucumber is told that he must go up against Queen Cordelia to help save everyone from her quest for world domination. Cucumber doesn't want to fight anyone though – he just wants to go to school. He repeatedly suggests Almond go on the mission instead but as he's repeatedly told, little sisters are not chosen for epic quests (not exact words, but you get the idea…) As to why little sisters aren't chosen, who knows? It's just the way it is! Cucumber and Almond visit various places in Dreamside and meet some eclectic characters throughout. It's a fun one, with bright illustrations and amusing breakdowns of all the characters in the book. This is just the first in the series, but you better believe I need more!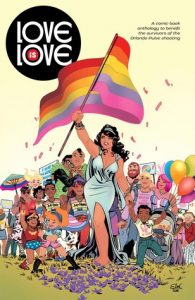 Love is Love: A Comic Book Anthology to Benefit the Survivors of the Orlando Pulse Shooting by many authors/illustrators
Review by Lauren
source: personal copy; all opinions are my own
Official Summary (add to Goodreads): The comic industry comes together in honor of those killed in Orlando. Co-published by two of the premiere publishers in comics—DC and IDW, this oversize comic contains moving and heartfelt material from some of the greatest talent in comics, mourning the victims, supporting the survivors, celebrating the LGBTQ community, and examining love in today's world. All material has been kindly donated by the writers, artists, and editors with all proceeds going to victims, survivors, and their families. Be a part of an historic comics event! It doesn't matter who you love. All that matters is you love.
Review: I gave this one five stars, not because I absolutely adored everything included (it's an anthology after all) but because everything was submitted with such obvious love and care. This anthology is about mourning those who died in Orlando, Florida during the Pulse Night Club shootings, but it's also about loving yourself and your fellow neighbor. It's about pride and joy. I think it should be read by everyone, whether you personally identify as LGBT+ or not. It doesn't matter – not everyone in the book is LGBT+, but they still care. They still love.
These shootings happened on June 12, 2016. It feels almost like yesterday. It's weird to think it's been about a year and a half since that awful night. What I love about this book is that so many of the stories and art included reflect Orlando, Pulse Night Club, and the actual men and women who lost their lives. Some stories are non fiction, but many are fictional accounts. There are some with no words, some with few, and others that are a page or two long. I liked that the book was a mix of the realistic and the fantasy – with many stories featuring comic book characters. There's a cute story about Harley Quinn and Poison Ivy being in a relationship. There's another that features Batman and is just heartbreaking. I suppose these two stories sum up the anthology as a whole – it's lighthearted and fun, but it's also dark and heartbreaking. It's love.
If you can buy your own copy of this anthology, I do suggest it as all proceeds benefit those affected by the Orlando shootings. If you can't, that's okay too – try and see if your library has it or can get it.
Show Us Your Books: Graphic Novel Edition (including- Love is Love Comic Anthology) #bookreview #ontheblog
Click To Tweet