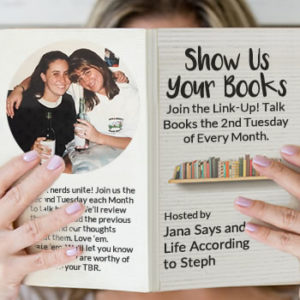 Crazy enough, but it's already the second Tuesday of June, and therefore, it's time for Show Us Your Books with Jana and Steph. Feel free to link up at either blog!
Show Us Your Books: A random assortment of book reviews #ontheblog! Graphic novels, a meal prep book, poetry, and more! #bookbloggers
Click To Tweet
What To Do When I'm Gone: A Mother's Wisdom to Her Daughter by Suzy Hopkins and Hallie Bateman
Review by Lauren
Source: copy from publisher; all opinions are my own
Official Summary (add to Goodreads): One sleepless night while she was in her early twenties, illustrator/writer Hallie Bateman had a painful realization: Someday, her mother would be gone. The prospect was devastating, and also scary—how would she navigate the world without the person who gave her life? She thought about all the motherly advice she would miss—advice that could help her through the challenges to come, including the ordeal of losing a parent.
The next day, Hallie asked her mother, writer Suzy Hopkins, to record step-by-step instructions for her to follow in the event of her mom's death. The list began: "Pour yourself a stiff glass of whiskey and make some fajitas" and continued from there, addressing issues great and small—from choosing a life partner to baking a quiche. The project became a way for mother and daughter to discuss everyday realities with humor, openness, and gratitude. It led to this book.
Review: This is a fascinating book because it's essentially a mother leaving advice about how to go on in life without her there, with the daughter illustrating the work. Suzy Hopkins is not actually dying, but her daughter, Hallie Bateman, had a sudden fear one night of how she would go on when her mom does eventually pass away. Hopefully it's not for a really long time and most of this advice won't be needed (Hopkins brings her daughter through relationships, marriage, and more). I loved that the book starts out day after day with what to do, how to grieve and cope with your loss, and then moves into longer spans of times…with advice for the bigger moments in life. That's kind of how life is after loss, right? You want/need them more in the early days. This book is also full of various recipes Suzy is leaving behind for her daughter, so that was a fun touch – and something readers can kind of take with them too after finishing What To Do When I'm Gone.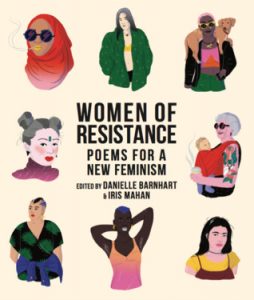 Women of Resistance: Poems for a New Feminism
Review by Lauren
Source: copy from Netgalley; all opinions are my own
Official Summary (add to Goodreads): A collection with a feminist ethos that cuts across race, gender identity, and sexuality.
Creative activists have reacted to the 2016 Presidential election in myriad ways. Editors Danielle Barnhart and Iris Mahan have drawn on their profound knowledge of the poetry scene to put together an extraordinary list of poets taking a feminist stance against the new authority. What began as an informal collaboration of like-minded poets—to be released as a handbound chapbook—has grown into something far more substantial and ambitious: a fully fledged anthology of women's resistance, with a portion of proceeds supporting Planned Parenthood and the Center for Reproductive Rights.
Review: I was really curious to read this poem anthology, but I have to admit that it fell a bit flat for me. Yes, there were some contributions that I really understood and enjoyed, but overall, I found myself pretty confused. Poetry is difficult sometimes; there will always be people who are a bit better at grasping the various meanings. I do love poetry, but unfortunately, I didn't love most of what was included in this Women of Resistance. I appreciated that the contributors had different styles and focused on different aspects of feminism, but all in all, this wasn't really for me.
Healthy Meal Prep: Time-saving plans to prep and portion your weekly meals by Stephanie Tornatore and Adam Bannon
Review by Lauren
source: copy from Netgalley; all opinions are my own
Official Summary (add to Goodreads): Plan, prep, and portion your weekly meals! Achieve your diet goals, maximize your time, and save money by preparing your weekly meals in advance. Planning ahead is the best way to ensure success when you're trying to eat healthy, but figuring out what to make and eat each week can be overwhelming.Healthy Meal Prep does the work for you with 12 clean-eating meal plans that guide you through preparing a week's worth of wholesome, balanced meals in just a few hours.
Review: I'm trying to find more healthy, but not too difficult, recipes to try out. I really wish I liked more types of foods because I think it would be easier – but I try to branch out here and there and it just doesn't always work. I'd read about Healthy Meal Prep in a magazine and was instantly curious, so it was awesome to find a copy on Netgalley for review. I liked that there were a mix of recipes, but honestly, not a lot of them stood out to me. I did note down the ingredients/recipes for a couple that I think I'd like but I still need to try them out. I did, however, see a healthy version of Cincinnati chili and I thought that was awesome since I live right outside the city – and we do love our chili here. I think a physical copy would definitely be the way to go over an e-book version though as it was kind of difficult to search. All in all, this might be good to check out if you're into meal prepping! It's something I still need to do more research on – find recipes that will suit my tastes and my needs!
Inside Darkness by Hudson Lin
Review by Lauren
Source: copy from Netgalley; all opinions are my own
Official Summary (add to Goodreads): After a decade as an aid worker, Cameron Donnelly returns home jaded, tired, and with more than just a minor case of PTSD. Plagued by recurring nightmares but refusing to admit he has a problem, Cam quickly spirals into an alcohol-infused depression, and everyone around him is at a loss for how to help.

Journalist Tyler Ang met Cam on a reporting assignment in Kenya, and their first encounters were rife with hostility and sexual tension. Back in New York, their paths continually cross, and each time, Cam's brokenness reminds Ty more and more of his own difficult childhood. Letting Cam in goes against Ty's instinct to live life autonomously, but the damaged aid worker manages to sneak past his guard.

Their relationship is all sharp corners and rough edges, and just as they're figuring out how to fit together, a life-threatening accident puts it all in jeopardy. If they want a future together, both will have to set aside their egos and learn to carry each other's burdens.
Review: I really enjoyed Inside Darkness! It was fascinating to learn about Cameron's job as an aid worker. It's almost as if he's a soldier, just without a lot of the glory. He goes to war torn countries, trying to help the people that live there, but at the same time, he sees some horrible things, which leads to him developing PTSD (post-traumatic stress disorder). One aspect that really made me sad for Cameron is that he's gay, and he's always been out and proud, but he soon realizes he can't be that way when working and living in these countries. He might be okay, but someone else could be badly hurt if it's known that he's gay. This really pushes Cameron back in the closet a bit and it makes it even harder for him to let journalist Tyler Ang in when they meet.
I thought Tyler was great and he's obviously wonderful to Cameron. I did feel bad for him though, as he's quickly pushed into Cameron's life, which means dealing with the PTSD. When you care about someone, you're there for them. But Tyler and Cameron hadn't known each other long before Tyler kind of becomes an outlet for Cameron – someone he actually lets in. Tyler wants to be there for him, but it's obviously rough for him as he's used to just being single and doing what he wants.
While I did really like Inside Darkness, I wish there was a bit more of Cameron and Tyler's everyday relationship. Books that deal with mental illness and relationships often focus a lot on that aspect, which makes sense, but it would have been nice to see the two of them just getting to know each other and falling in love without so much of the "drama" that surrounds them (and I don't mean drama in a bad way – it all made sense within the book).