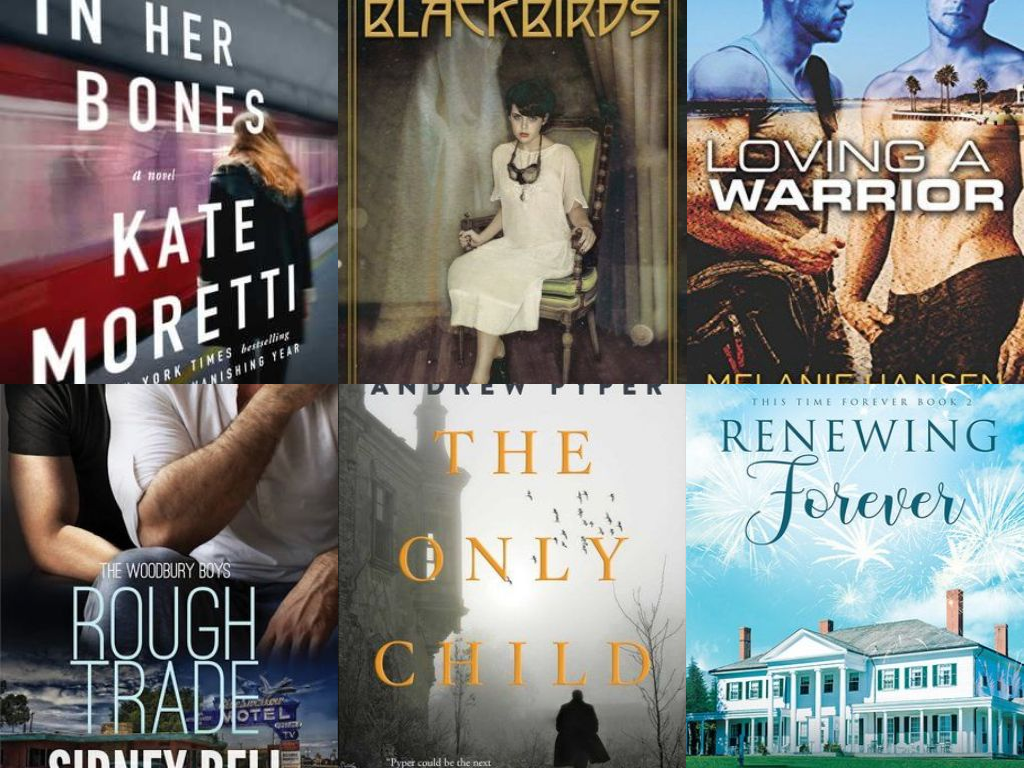 It's the second Tuesday of the month, and I'm back to link up with Jana and Steph for Show Us Your Books. Some of these mini reviews are for books I had to review, while others are books I decided to read for fun. Any catch your eye?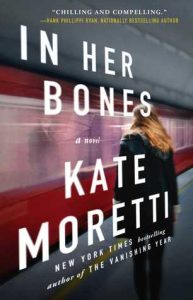 In Her Bones by Kate Moretti
Review by Lauren (copy from e-library; all opinions are my own)
Official Summary (add to Goodreads): Fifteen years ago, Lilith Wade was arrested for the brutal murder of six women. After a death row conviction, media frenzy, and the release of an unauthorized biography, her thirty-year-old daughter Edie Beckett is just trying to survive out of the spotlight. She's a recovering alcoholic with a dead-end city job and an unhealthy codependent relationship with her brother.
Edie also has a disturbing secret: a growing obsession with the families of Lilith's victims. She's desperate to see how they've managed—or failed—to move on. While her escalating fixation is a problem, she's careful to keep her distance. That is, until she crosses a line and a man is found murdered.
Edie quickly becomes the prime suspect—and while she can't remember everything that happened the night of the murder, she'd surely remember killing someone. With the detective who arrested her mother hot on her trail, Edie goes into hiding. She's must get to the truth of what happened that night before the police—or the real killer—find her. 
Unless, of course, she has more in common with her mother than she's willing to admit…
Review: I was immediately curious about this book when I came across it, so I was really excited that my e-library had a copy. Most serial killers are men, so it was interesting to me that this book is about the daughter of a female serial killer. Edie definitely has her quirks and issues, but she's adamant that she's not her mother's daughter. Unfortunately, she becomes the prime suspect in a man's murder and she decides to stay hidden until she can clear her name.
There are a variety of mysteries throughout In Her Bones, so even if you happen to guess one thing, hopefully there will still be some surprises throughout. I didn't guess much, but then again, that's not always my goal when reading a mystery. Sometimes it's fun to just let go and see what happens, and In Her Bones is certainly a wild ride!
Renewing Forever by Kelly Jensen
Review by Lauren (copy from Netgalley; all opinions are my own)
Official Summary (add to Goodreads): Frankie and Tommy once dreamed of traveling the world together. But when seventeen-year-old Frank kissed Tom, their plans ended with a punch to the jaw and Frank leaving town without looking back. Thirty years later, Frank's successful career as a journalist is interrupted by his uncle's death and the question of his inheritance—the family resort where his childhood dreams were built. When he returns to the Pocono Mountains, however, he finds a dilapidated lodge and Tommy, the boy he never forgot.
Tom's been keeping the resort together with spit and glue while caring for Frank's uncle, Robert—a man he considered father, mentor, and friend—and his aged mother, who he refuses to leave behind. Now Robert is gone, taking Tom's job with him. And Frank is on the doorstep, wanting to know why Tom is still there and why the old lodge is falling apart.
But before they can rebuild the resort, they'll have to rebuild their friendship. Only then can they renew the forever they planned all those years ago.
Review: I gave Renewing Forever three stars, which really just meant that I liked the book but I did have some issues. I liked Frank and Tom together, and I thought it was great that they wanted to rebuild the resort that Frank's Uncle left to him. However, these two former best friends hadn't spoken in thirty years…and it was really obvious as to why Tom pushed Frank away, but the book almost made it seem like it was meant to be a surprise. I can't say for sure, but it was definitely not a mystery to me. Also, I felt like they were both really stubborn and could have found their way back together years before.
However, in the present, I liked the two of them, even if Tom was still trying to push Frank away, and I was happy when they would make strides toward being together. This is actually the second book in a series, and I believe Frank is included in the first book, but I started with Renewing Forever and didn't find anything confusing. I do, however, have the third book to hopefully read and review soon (and that stars a secondary character from Renewing Forever).
In the Shadow of Blackbirds by Cat Winters
Review by Lauren (copy from library; all opinions are my own)
Official Summary (add to Goodreads): In 1918, the world seems on the verge of apocalypse. Americans roam the streets in gauze masks to ward off the deadly Spanish influenza, and the government ships young men to the front lines of a brutal war, creating an atmosphere of fear and confusion. Sixteen-year-old Mary Shelley Black watches as desperate mourners flock to seances and spirit photographers for comfort, but she herself has never believed in ghosts. During her bleakest moment, however, she's forced to rethink her entire way of looking at life and death, for her first love—a boy who died in battle—returns in spirit form. But what does he want from her?
Review: In the Shadow of Blackbirds is Cat Winters' debut novel, and it's one that I've wanted to read for years now. It took my book club assigning it for me to finally get the chance to read it though. I now need to make my way through the rest of Winters' back list. In the Shadow of Blackbirds is about Mary Shelley Black in 1918, who has to move across the country when her father is arrested. The Spanish influenza is everywhere and people are literally dying left and right. Worse, for Mary Shelley, her first love has died in the War and she's thrust into a world of seances and spirit photographers. She might not believe in all of it, but she definitely believes that her lost love is visiting her…and he needs something to move on.
This is a YA book, but I hope that doesn't deter people from checking it out because I truly believe people of all ages would like it. Everyone in my book club seemed to enjoy it, and most of them are older than me. Mary Shelley is a smart young woman who wants the best for those she loves, but she uses her mind and doesn't go stumbling into trouble without back-up. I know that can be a complaint of characters in YA, so I figured it was worth mentioning. I definitely recommend!
Loving a Warrior by Melanie Hansen
Review by Lauren (copy from Netgalley; all opinions are my own)
Official Summary (add to Goodreads): BUD/S: six months of the most intense training there is. It's survival of the toughest, and Matt Knytych is determined to come out the other side a navy SEAL.
Distraction is life or death. And just the sight of former marine Shane Hovland is enough to shake Matt's concentration.
Shane came to BUD/S training ready to prove himself—again. Semper Fi is forever, but he needs a new start. Not this dangerous heat with a man he barely knows.
Everything they've ever wanted is riding on a thin, punishing line. And they'll have to fight for more than just each other if they want to make it through intact.
After all, the only easy day was yesterday. 
Review: Loving a Warrior is about two young men in BUD/S training, which is where they will either become a Navy SEAL or not. Matt has wanted to be a SEAL most of his life, but he's had some things happen in his past that could derailed him. Now that he's in training, he doesn't want any distractions. Of course, the most unwanted distraction comes in the form of Shane, who used to be a marine, and has his own past story.
I really liked both Matt and Shane, though I found Matt to be a bit too stubborn and single-minded for awhile. It definitely made it easier to like Shane a bit more, but all in all, I did want both of them to make it work. And making it work would hopefully include both of them becoming SEALS as well as being able to be together in a relationship.
Loving a Warrior was a book that I really enjoyed, but I could see some having issues with it. It focuses a lot on the actual training so it's not a straight forward romance. Also, while the two are going back and forth about being together, they tend to become physically aggressive when frustrated with each other. As two friends, and two friends who are in the military, it didn't really bother me, but I could see how it might stray too close to abuse for some if they see the two in a romantic relationship.
The Only Child by Andrew Pyper
Review by Lauren (copy from e-library; all opinions are my own)
Official Summary (add to Goodreads): As a forensic psychiatrist at New York's leading institution of its kind, Dr. Lily Dominick has evaluated the mental states of some of the country's most dangerous psychotics. But the strangely compelling client she interviewed today—a man with no name, accused of the most twisted crime—struck her as somehow different from the others, despite the two impossible claims he made.
First, that he is more than two hundred years old and personally inspired Mary Shelley, Robert Louis Stevenson, and Bram Stoker in creating the three novels of the nineteenth century that define the monstrous in the modern imagination. Second, that he's Lily's father. To discover the truth—behind her client, her mother's death, herself—Dr. Dominick must embark on a journey that will threaten her career, her sanity, and ultimately her life.
Review: The Only Child has such an interesting premise, but honestly, it wasn't quite what I thought it was going to be. There's a man who tells Dr. Lily Dominick that he's the inspiration behind Frankenstein, Dr. Jekyll and Mr. Hyde, and Dracula. This was definitely the most interesting part of the book to me and while it deals with this a bit, it's mostly about Lily running around the world trying to figure out the truth of this man's words…most notably, that he's actually Lily's father.
This is definitely a book that I can't easily recommend. I think it would be interesting to some, but for me, it was a bit of a slower read and for some reason, I just didn't get quite as invested as I'd hoped. Definitely a three star read all around.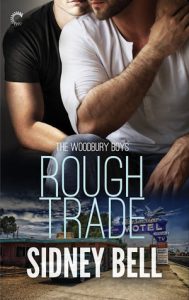 Rough Trade by Sidney Bell
Review by Lauren (source from Netgalley; all opinions are my own)
Official Summary (add to Goodreads): Quick-witted hustler Ghost is no stranger to living dangerously; survival has always been the name of the game.
He's just always gone it alone.
Now he's got the wrong people breathing down his neck, and the only way out demands placing his trust in the unlikeliest of heroes: Duncan Rook, a gruff cop whose ethics are as solid as his body.
Cozying up to a criminal is hardly what Duncan's reputation on the force needs—especially when that criminal is temptation personified. Ghost is Duncan's polar opposite, and the last person he expected to fall for.
So then why does every imaginable scenario for taking down their common enemy end with Ghost in his arms?
Review: Rough Trade is the third and final book in the Woodbury Boys series. While each book focuses on a different couple, it's important to read them in order or you won't really understand the overall story line. Ghost's story is one that I've been curious about since the first book. I mean, he goes by the name Ghost. There has to be a reason for that alone.
This is probably the most action-packed of the three. Ghost is on the run from some really dangerous people, and he can't even trust most cops, which makes for an interesting story when he has to hide out with cop Duncan. I really liked the character of Duncan. Yes, he's a cop, and yes, he mostly believes in doing the right thing…but he also break some rules to do the right thing. And in Rough Trade, protecting Ghost is the right thing to Duncan.
The relationship between the two isn't easy or quick, but it works, and it made sense. I thought this was a great ending to the story, even if I'd love to have more of the Woodbury boys!
Show Us Your Books: A mix of 6 different book reviews #ontheblog! #mmromance #bookbloggers
Click To Tweet
Okay, so some of those weren't exactly mini, but I tried not to go on too long. At any rate, I hope you read some of the reviews. Let me know what looks good to you in the comments!