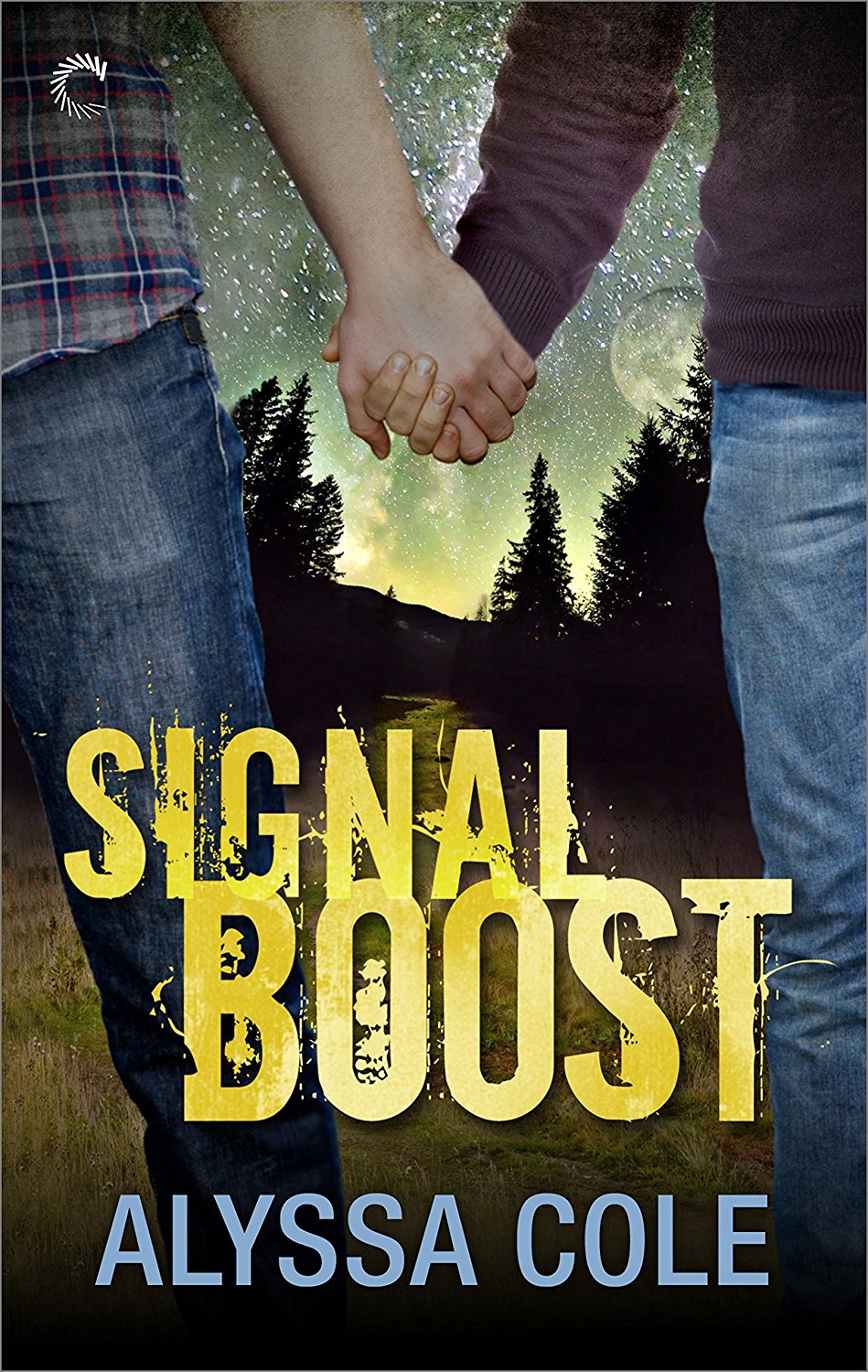 Signal Boost by Alyssa Cole
Review by Lauren
Source: copy from netgalley; all opinions are my own
Official Summary: In a secluded cabin,
John and his loved ones have survived. He should feel grateful. But his
family is in his face 24/7, he has to watch his best friend, Arden, and
brother, Gabriel, flaunt their love, and as a techie in a Luddite world
he's pretty much useless. The cabin is brimming with people, but he
feels utterly alone.
Until he catches Mr. Tall, Blond and Gorgeous
raiding their garden. Mykhail is an astrophysics student, he makes
John's gaydar ping like crazy and he thinks he knows what caused the
devastation. He's on a journey to his university to find answers, and
John invites himself along. Partly to get out of the house, and partly
because he can't let Mykhail go without acting on the mutual attraction
that's so obvious even John's mom is playing matchmaker.
The closer they get to campus, the more
Mykhail lets down his walls. But with answers come secrets both
devastating and deadly, and before they can save the world, they'll have
to save themselves.
Review: I don't read a lot of science
fiction, but I found myself really enjoying this one. I felt that the
romance aspects were a nice backdrop to the overall story. That doesn't
mean romance fans wouldn't enjoy this title, but it also talks about a
worldwide power outage that actually made sense. Cole had explanations
that made me sit back and go "wow, I feel like that could actually
happen." It made the story feel more realistic and that's always good
for science fiction.
As for the romance, John is desperate to get out
of the house and prove he can do something useful but he doesn't get
that chance until Mykhail stumbles across their house. He has an idea of
what is happening and he wants to visit an old mentor at the local
university. With an almost immediate crush and the urgency to do
something, John is ready to join Mykhail on his journey. Mykhail isn't
thrilled by the prospect, even though John knows they have some sort of
connection, but he ultimately lets John join him as John is adept in
navigation.
On their journey to the university, they have to
be wary of people willing to shoot first and ask questions later, as the
world has gone back to pre-technology, fight and survive days. They
work together to make their journey, and at the same time, they begin to
learn more about each other and grow even closer. Their relationship
isn't without issues of course, which I appreciate, since no romance is
ever perfect.
Overall, I did really like this one. I liked that
the science made sense, I liked the romance, and I thought Cole did a
good job creating a book that was suspenseful and engaging. The story
begins in Radio Silence with John's friend Arden and his brother Gabriel
falling in love (FYI: Arden is female). I did not read this book first,
but if anyone is interested in reading in order! I felt Signal Boost
made sense without it though.