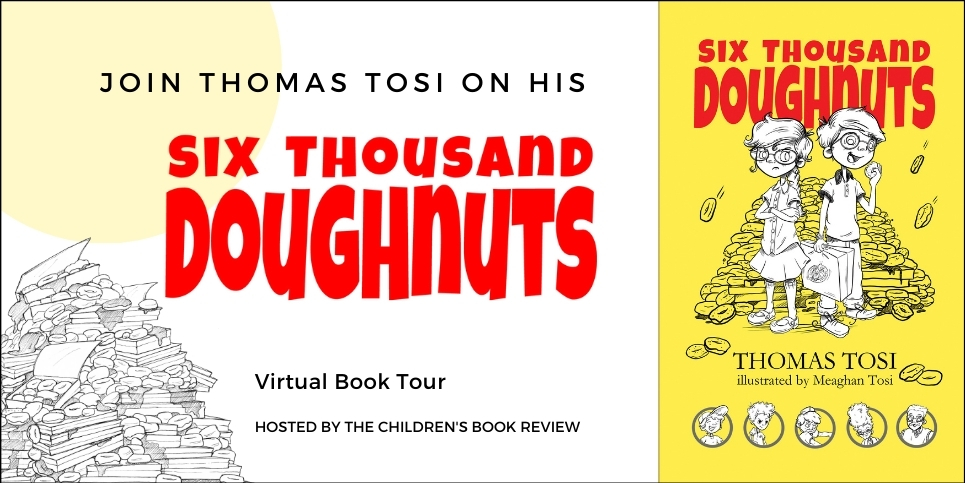 This is a sponsored post courtesy of The Children's Book Review and Dooney Press 
Welcome to my tour stop for Six Thousand Doughnuts by Thomas Tosi and illustrated by Meaghan Tosi. Before we get to the fun giveaway, I have a quick book review to share.
Six Thousand Doughnuts by Thomas Tosi
Review by Lauren
review copy; all opinions are my own
This book is about fifth-grader Abe Mitchell and how he always has to share everything with his four other siblings, twin older brothers and an older sister, and one younger sister. When he asks his dad if he can peel off his coffee cup's coupon, he sees that he's won a free doughnut! But even better? The tiny details on the back of the coupon – after doing some intricate math – reveals that Abe can get six THOUSAND doughnuts for only three bucks!
Abe was a fun character to read about. He doesn't always do the right thing, but he definitely has a good heart and ultimately doesn't want to hurt anyone.
I loved getting to know Abe's whole family, including his parents and cousin who moves in with the family! They all came alive on the page for me.
The black and white illustrations were fantastic and I absolutely adored the fact that Thomas Tosi's daughter, Meaghan, was the one who drew them. She's a wonderful artist.
The book is marketed for 8-12 year old kids, which I think seems appropriate. I know my ten year old niece would probably really enjoy this one!
Six Thousand Doughnuts is full of little lessons but nothing super preachy.
I think this would be a fun book for parents or classrooms to read out loud to one another. It's not terribly long and it's full of fun, over-the-top (yet still entirely realistic) scenarios.
Six Thousand Doughnuts Giveaway!
Enter for a chance to win a hardcover Six Thousand Doughnuts prize pack!
One (1) grand prize winner receives:
A hardcover copy of Six Thousand Doughnuts, autographed by Thomas Tosi
A high-quality ceramic Six Thousand Doughnuts diner mug featuring the Sweetly Crisp doughnuts logo.
Three (3) grand winners receive:
A hardcover copy of Six Thousand Doughnuts, autographed by Thomas Tosi
The giveaway begins May 19, 2021, at 12:01 A.M. MT and ends June 19, 2021, at 11:59 P.M. MT.