Welcome back to the first Glossies Made Me Do It of 2020! I've changed the link-up to the Second Friday of Every Month. I love reading magazines and I subscribe to quite a few every year, which is how this link-up was born. Has a magazine inspired you lately – think about something, read something, try something, etc.? Whatever you want to share, you're welcome to join!
I think this is the only new magazine that I subscribed to for this year. My work gets this one and I've enjoyed flipping through it there, so I figured it would be fun to get it at home. I like that it focuses on a variety of health topics, but it's not preachy or designed to make you feel like you need to be a size 0 – which I will never be.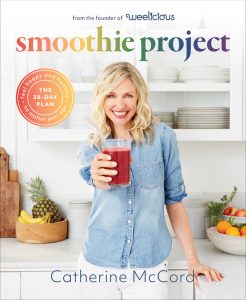 Glossies Made Me Do It: Smoothie Project
In the magazine, there is a section called Health Book Club and it focuses on four cookbooks that help with different aspects of your health. The one that really stuck out to me was Smoothie Project by Catherine McCord – they have this one labeled under "To Reboot Your Daily Diet." I've been thinking of trying to drink smoothies for awhile now, especially since I know it's a good way to get some veggies in my diet. I'm not a vegetable person – not really – so if I can drink something that tastes good, but is also helping my diet, then I'm in.
This cookbook sounds like a great way for me to learn more about smoothies and how they can benefit me, as well as get some recipes to try. I tried finding this at my local library, but they don't seem to have it, so unfortunately, I don't have a more in-depth review. I do want to try and buy this cookbook when I have the money though, and once I do, I'll be sure to write more about it and what I think of the recipes.
Have you heard of this cookbook? Do you drink smoothies, and if so, do you have any recipes that work for you? I'm open to ideas! I have an older blender, so getting a new one will also be on my list of things for this year – I know they can be costly though, so we'll see when that happens. Hopefully my old one will suffice until then! What blenders do you have, and would you recommend? 
I actually read about Smoothie Project in another magazine, so it seems to be a popular recommendation choice. A lot of my monthly magazines focused on health and New Year's Resolutions – eating better, moving more, etc. and since these are things I want to do more of in 2020, it's been interesting to see all the tips and ideas!
Alright, it's your turn! Have you read anything in a magazine lately that you want to talk about? Link up posts below, or share in the comments!
You are invited to the Inlinkz link party!