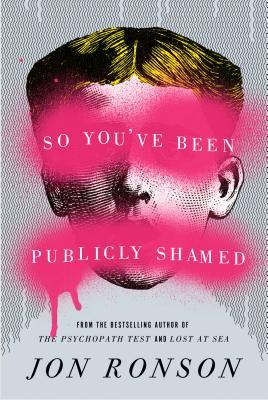 So You've Been Publicly Shamed by Jon Ronson


Source: copy from the library; all opinions are my own


Official Summary: For the past three years, Jon Ronson has travelled the world meeting recipients of high-profile public shamings. The shamed are people like us – people who, say, made a joke on social media that came out badly, or made a mistake at work. Once their transgression is revealed, collective outrage circles with the force of a hurricane and the next thing they know they're being torn apart by an angry mob, jeered at, demonized, sometimes even fired from their job.

A great renaissance of public shaming is sweeping our land. Justice has been democratized. The silent majority are getting a voice. But what are we doing with our voice? We are mercilessly finding people's faults. We are defining the boundaries of normality by ruining the lives of those outside it. We are using shame as a form of social control.


Review: I've seen this book at the bookstore and I really wanted to read it, so I was excited when I realized that one of my local libraries had a copy that I could borrow. This book is mostly about every day people (the book starts with a story about an author though) who have said or done something upsetting and posted it on social media (usually, there are some other stories about plagiarism, etc.). These people are usually just trying to make a joke or doing something "amusing" for their friends. Unfortunately, not just their friends see these things (especially on Twitter) and it gets passed along until it's a huge deal and the original poster is now being publicly shamed.
Ronson focuses on Twitter a lot as a server of justice, because it's often anonymous for most people and it's easy to sit behind a screen and rip someone apart for a badly worded tweet or unfortunate picture. This is just one tiny part of a person's history and yet it soon becomes all the world knows about them. Google their name and you learn what they wish would just disappear. People on the internet, especially Twitter, call them names, call for them to be fired from their jobs (and some are!), and even worse. It's especially bad, it seems for women. People use sexual threats against them, saying they should be raped and killed, and this is terrifying. Why are people so hateful toward each other?
It was interesting to see the various stories that Ronson focused on, because even if I – as a reader- did not agree with what the person did, I would never publicly call them out. Some of these stories I remember hearing about, but a lot of them I had never heard any details. One story is about a woman who made a badly worded joke about going to Africa and not getting AIDS because she's white. She found it funny because who would ever think that someone would actually believe white people couldn't get AIDS. Unfortunately, her tweet got passed to someone with a lot of followers and soon she was trending on Twitter and people were outraged at her attitude toward AIDS victims and calling her racist. This young lady was fired from a job she loved and she was thrown into a deep depression. It was horrible to read about and yet fascinating to see how hurtful people can be on social media where there are really no repercussions.
This is just one story, but there are many more, and I highly recommend checking out this book to learn the details. It's non-fiction, but it keeps you reading and I never found it boring!