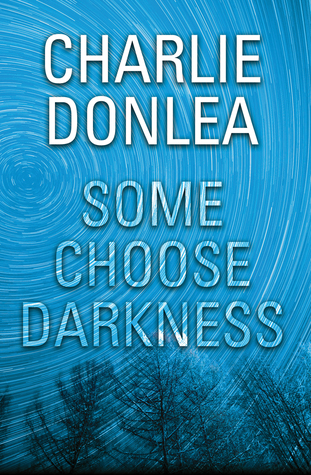 Some Choose Darkness by Charlie Donlea
Review by Lauren
Source: copy from publisher; all opinions are my own
Official Summary (add to Goodreads): The truth is easy to miss, even when it's right in front of us. As a forensic reconstructionist, Rory Moore sheds light on cold-case homicides by piecing together crime scene details others fail to see. Cleaning out her late father's law office a week after his burial, she receives a call that plunges her into a decades-old case come to life once more.
In the summer of 1979, five Chicago women went missing. The predator, nicknamed The Thief, left no bodies and no clues behind—until police received a package from a mysterious woman named Angela Mitchell, whose unorthodox investigation skills appear to have led to his identity. But before police could question her, Angela disappeared. Forty years later, The Thief is about to be paroled for Angela's murder—the only crime the DA could pin on him. As a former client of her father's, Rory becomes reluctantly involved with the killer—though he continues to insist he didn't murder Angela. Now he wants Rory to do what her father once promised: prove that Angela is, in fact, still alive.
As Rory begins reconstructing Angela's last days, another killer emerges from the shadows, replicating those long-ago murders. With every startling discovery she makes, Rory becomes more deeply entangled in the enigma of Angela Mitchell—and in The Thief's tormented mind. Drawing connections between past and present is the only way to stop the nightmare, but even Rory can't be prepared for the full, terrifying truth that is emerging . . .
Review: I was lucky to win an ARC of Some Choose Darkness from Kensington Books. I read all of Charlie's books last year and really loved them, so I was eagerly anticipating his latest. I wouldn't say Some Choose Darkness is perfect, but I still gave it five stars because I really did love it. I think the characters are written well, and the mystery was a mix of twists and turns. There were definitely some things I could see coming, but I didn't piece everything together, and I love that. I like when mysteries have more than just one question to answer.
I do recommend this one for anyone who enjoys a good mystery/thriller. The book has timelines from the present day (mostly following Rory) and from 1979 (mostly following Angela who was figuring out who murdered five women in Chicago that summer). This dual narration, if you will, was definitely needed because it allowed Donlea to give readers pieces of information as the book goes on, answering questions and opening up even more. I wouldn't say this book is gory or gruesome; the author doesn't delve too much into the actual killings. If you're a squeamish reader, I think you'll be fine with Some Choose Darkness.
Some Choose Darkness by Charlie Donlea - book review #ontheblog #somechoosedarkness
Click To Tweet
Finally, the one thing that I would "complain" about is that Rory is actually given a job to reconstruct the death of a young woman in the beginning of the book. This gets pushed aside, if you will, when she becomes mixed up in the 1979 case. I didn't fault Rory for focusing her energies on those killings, because it was a bit more pressing. However, the book never does explore that original case. Of course, this isn't needed for the story, but it's something I was still curious about and I would have liked to have gotten some sort of closure there. Besides that, though, I really loved this book!
Some Choose Darkness is released on May 28, 2019 – buy your copy now!