Soul to Keep by Garrett Leigh
Review by Lauren
source: copy from Netgalley; all opinions are my own
Official Summary (add to Goodreads): Recovering addict Jamie Yorke has returned to England from California. With no home or family to speak of, he sticks a pin in a map and finds a small town in the Derbyshire Peak District. Matlock Bath is a quiet place—he just needs to get there, keep his head down, and stay clean. Simple, right? Until a chance meeting on the flight home alters the course of his so-called life forever.
Ex-Army medic Marc Ramsey is recovering from life-changing combat injuries while pulling nights as a trauma specialist at the local hospital. Keeping busy is a habit he can't quit, but when Jamie—so wild and beautiful—bursts into his life, working himself into the ground isn't as compelling as it used to be.
Marc falls hard, but chaos lurks behind Jamie's fragile facade. He's winning his battle against addiction, but another old foe is slowly consuming him. Both men have weathered many storms, but the path to the peace they deserve might prove the roughest ride yet.
Review: This is the second book in the Rented Heart series, but I haven't read the first. However, the first does feature Jamie, so if you're interested in his full story, I'd recommend reading them in order. Otherwise, Soul to Keep works fine as a stand-alone novel. Both guys in this book have dealt with a lot in their past. Marc will always be haunted by his time in the army, and he sees a lot of tragedy in his current job working in a hospital. As for Jamie, he's not sure where his life is leading him, only that needs to stay sober in order to have a good future. I thought the two guys worked really well together. While it seems like Marc helps Jamie more than the other way around, I do think they are both good for each other in different ways. I do wish the book was a bit longer as it would have been nice to see more of Marc and Jamie's relationship once things are a bit more on an even level. Most of Soul to Keep is them working through their own individual problems while eventually trying to make a go of a relationship. At any rate, I did really like this one and I'd read more from the author!!
Two #mmromance book reviews on the blog today! Would you read either? #bookbloggers
Click To Tweet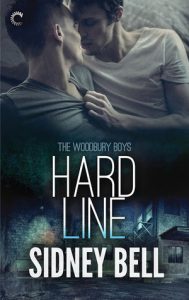 Hard Line by Sidney Bell
Review by Lauren
source: copy from Netgalley; all opinions are my own
Official Summary (add to Goodreads): Premed student Tobias Benton is making amends for his past. He keeps his head down, mouth shut and colors within the lines. But when his close friend Ghost goes missing, Tobias will do whatever it takes to get answers—including using blackmail to enlist some help. The last thing he's looking for is romance.
Private investigator Sullivan Tate isn't above a little breaking and entering to solve a case, but when Tobias catches him in the act, it's almost game over. Their uneasy alliance only gets more complicated when Sullivan learns that Tobias shares his interest in kink. Mixing sex and work could kill Sullivan's career, but Tobias's acceptance of Sullivan's darkest urges is nearly impossible to resist.
Side by side, Tobias and Sullivan spend their days searching for the truth and their nights fulfilling their respective fantasies. But the answers they seek are far more dangerous than they realize, and soon they find themselves fighting for more than just each other.
Review: This is the second book in the Woodbury Boys series. It's okay if you want to read this on its own, but I do kind of recommend reading the books in order. You meet Tobias in the first one, but you also get a lot of needed back story for the plot in Hard Line. However, I also really loved Hard Line a lot more than the first book, Loose Cannon, so if you find yourself a bit "meh" about the first book, try and read on! Now, Tobias is someone who almost always tries to do what's expected of him. He loves his family but they can also be really suffocating. When his friend, Ghost, goes missing, he ends up hiring private investigator Sullivan Tate, whose current case coincides with Tobias' interests. The two don't really start out on good terms, as Tobias is essentially blackmailing Sullivan to help him.
However, the two do start to get to know each other better during the investigation and an a relationship of sorts starts. I thought the relationship was handled well, because Sullivan doesn't just suddenly forget how the two started working together. He's not okay with Tobias blackmailing him. As time goes on though, the two begin to work with each other a lot better and the relationship really works. I should also note that they have a bdsm relationship of sorts, though pretty much only when it comes to sex. Sullivan doesn't want Tobias to submit in everyday life, and Tobias is definitely not going to do that as he's done it throughout most of his life already. However, when it comes to their intimate relationship, the bdsm aspects work well for them, and I thought it was portrayed safely, which is a positive.
I don't know if there will be a third book, but I do think the answer will be yes, and I hope that it features Ghost as the protagonist. We've learned a lot about him in the first two books so it would be interesting to be "inside his head" for a change. Tobias considers Ghost his best friend, but Ghost isn't one to reveal real emotions or let people get too close, so he's hard to figure out sometimes. However, there is a moment near the end of Hard Line where Ghost does something that, I believe, really shows how much he cares for Tobias – though obviously this moment is very Ghost-like.
Definitely an interesting series with an over-arching mystery/story line that goes from book one to book two, just with different couples focused on for each book.