Disclosure: this post includes affiliate links; I will get a percent of any purchase, at no extra cost to you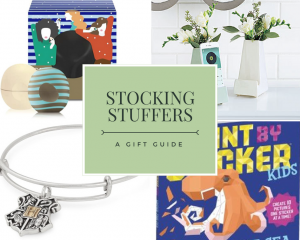 One of my favorite ways to give gifts is in a stocking! It's just so much fun to stick your hand in those stockings and root around to see what you find! One Christmas, I even gave my friends stockings and got them all items that would fit inside. I think it turned out well, and it's a different way to transport gifts besides bags or wrapping them!
Today,  I thought I'd share some stocking stuffer ideas that I found online that might be suitable for the various people in your life (or even yourself – don't worry, I won't tell!)
A Stocking Stuffer Gift Guide for Adults and Kids! #giftguide #stockingstuffer
Click To Tweet
Alex and Ani have a whole Harry Potter collection of items for sale, including this Hogwarts bangle. This is perfect for any Harry Potter fan! As we're starting to get colder weather, these Kate Spade New York Mandarin Colorblock Gloves will go to great use!
Does your family have a ton of different phone chargers? One way to keep track of them is to get this iPhone Charger Sticker Faces Set! How cute are they? Or what about this Smartphone Beside Vase (it's a two-in-one gift!)
I know that little kids are usually the ones that get a stocking every year, so I didn't forget about them! There are all sorts of these cute character lip balms like this Tsum Tsum Frozen Olaf from Lip Smackers! I'd be okay getting any of these too, so you know, it's versatile! Any age would enjoy them. Another fun idea would be this Paint by Sticker: Under the Sea book – I'm a fan of books and activity type of gifts for kids because it gets their imagination working!
Of course, I have some other fun ideas too so be sure to check out the widget below to find all my stocking stuffer recommendations! What do you like the best?