It's DECEMBER!! I have a few more Stocking Stuffer posts to share, and I'm particularly excited about today. I even got a toddler friend to review one of the items for us.
Both of these Etsy shops are run by the same person, but they tackle different type of gifts. What they have in common? Their products are perfect for kids – and kids at heart! They all also make a really awesome stocking stuffer!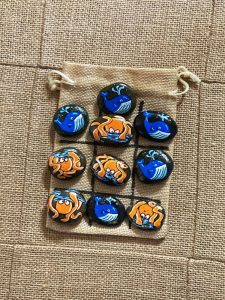 Rock This Way Store focuses on the old favorite Tic-Tac-Toe and painting! Their tic-tac-toe is unique in that the X's and O's are actually painted rocks. There are all sorts of designs and themes to choose from, so you are bound to find the perfect item. Some of the options: Lilo and Stitch, Toy Story, mermaid, various Star Wars sets, and so much more. This is one item that I could see adults and kids loving! These are works of art and would make lovely decorations for an older gift recipient!
I was sent the above Whale and Octopus set above for review, and they are seriously gorgeous in person. I don't know how often I would play with them, but I kind of want a set just to have! The one I was sent came in a burlap bag with the grid on the front, so you have everything you need for a game!
I love that it has its own carrying case, if you will, and it really does make a wonderful stocking stuffer!! Here's another look at the grid and rocks-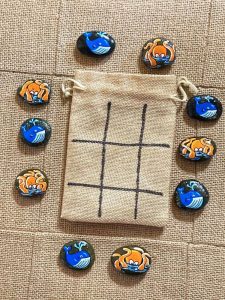 All of these sets are around $17, but there are also some slightly more expensive Wood Tic-Tac-Toes. What I love about these is that it comes with a wood round with the grid on it, so it's something a bit nicer and sturdier to play on. Don't worry though – it still comes with a bag so you can store your rocks!!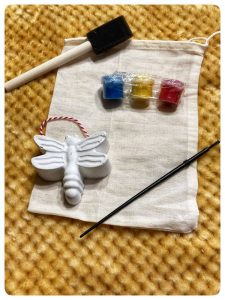 Another item you can find at the Rock This Way Store are painting kits (some are even ornaments!). This would be so cute for party favors, or for doing art class at home.
I was sent the dragonfly ornament to paint (which comes with a brush and three paint pots), as well as a cloth bag and foam paint brush. It wasn't specified, but I got the idea that you use the smaller brush for the ornament and then the foam roller could be used to paint on the cloth bag. You could even have your kid paint the ornament, decorate the bag, and then put the ornament in the bag to give to a family member or friend.
Now we are at the shop, Pastello Rosso! This shop is all about crayons and chalk! Again, they have a ton of different options. I was sent a bag of some fun animal crayons. They are so cute, and how fun would this be to find in a stocking?
I love that you can find a variety of crayon options including: owls, unicorns, llamas, Mickey, Avengers, and many more! You can purchase the little bags that you see above, but there are also some in gift boxes which are cute, and they are ready to gift as is! As I said above, this shop also sells chalk in various fun shapes and characters, so that's another option!
Speaking of gift boxes, one of the options is to personalize the crayons to spell out your kid's name. I got a box for my friend's daughter, Logan, and she loved it!
As you can see above, it included all the letters of her name – as well as a cute little robot at the end. You can tell what I meant about it being ready to gift as is – just put the lid on the box, add the string, and fill out the To and From tag. I love that it makes it so easy to give.
I packaged up these crayons and sent them along with my friend so she could surprise her daughter.
Who wouldn't want to see their name spelled out in crayons? I'm an adult and I think it's fun.
According to my friend, Logan loved her crayons and from the photos (and videos) she sent me, they worked really well. They are definitely thick and sturdy, so good for young hands!
I think all of these items would make fantastic stocking stuffer gifts – or even just party favors or a little token for the young people in your life. I'm excited that Logan loved her crayons, and I wanted to share the love by giving away the other items that I was sent to review!! Even if you enter the giveaway, be sure and buy the items you want soon so you get them in time for the holidays!
Giveaway Time!
1 U.S. winner gets the ocean tic-tac-toe set, the dragonfly ornament (with bag, paint brushes, and paint), and the little bag of crayons!
I am not responsible for lost or damaged items once they have been shipped
18+ to enter or have parental consent
Giveaway ends on Wednesday, December 9 at 11:59 p.m. EST